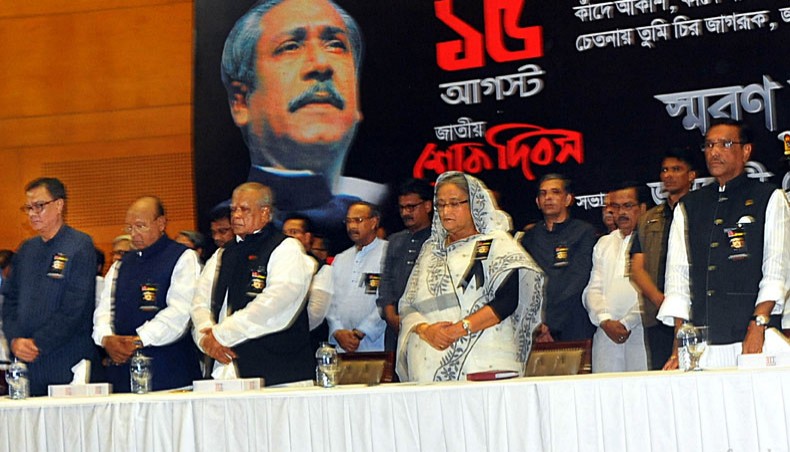 Prime minister Sheikh Hasina on Wednesday said that Khandaker Mostaque and Ziaur Rahman had their part in the conspiracy to kill Bangladesh's founding president Sheikh Mujibur Rahman along with most of his family members.
She urged the people to remain alert about those who want to push the country backward.
'The killers executed the killing mission in a planned way and there was a big conspiracy behind that. Killer Mostaque and his cohort Ziaur Rahman were involved in that conspiracy as Mostaque declared himself president illegally and Zia army chief soon afterwards,' she said.
She continued, 'We want to take the country forward, but still there're some people
who want to push it backward. The country's people will have to remain alert about them.'
The prime minister was addressing a discussion organised by Awami League at the Bangabandhu International Conference Centre marking the 42nd anniversary of martyrdom of Sheikh Mujib.
With the passage of time, she said, Ziaur Rahman grabbed power illegally and held three posts — president, chief martial law administrator and the army chief — simultaneously.
Hasina said that Zia then had promulgated the indemnity ordinance blocking the path for holding trial of the killers of Sheikh Mujib apart from rehabilitating them through appointing them in various Bangladesh missions abroad. 'Even Zia freed the convicted war criminals.'
The prime minister said that barrister Mainul Hosein then had formed a political party with killers Huda and Shahriar while Zia had made Sheikh Mujib's killers prime minister, ministers and even his advisers; Ershad had formed Freedom Party with killers Rashid and Huda and Khaleda Zia had made killers Rashid and Huda opposition MPs through the controversial and voter-less February 15 election in 1996.
Mentioning that nowadays all become vocal when a killing takes place, Hasina said, but no one questions why those who remained in power after 1975 rewarded Mujib's killers.
She said that after that heinous killing, she could not seek justice as that right was snatched through the indemnity ordinance. 'Ziaur Rahman didn't even allow my younger sister Sheikh Rehana to renew her passport,' she said.
Hasina said that Rehana first joined a rally in Sweden in 1979 in protest against the Bangabandhu killing. Later, an inquiry commission was constituted in 1980 in London comprising Nobel laureate Sharon Bright and British parliament member Tomas William to investigate the killing. 'But Ziaur Rahman didn't allow them to come to Bangladesh,' she said adding, 'had Zia not been involved in the killing, he would have let the investigation commission to conduct their investigation.'
The prime minister questioned why Bangladesh Nationalist Party enforced hartal on the day when the judge was set to deliver the verdict in the Bangabandhu murder case.
About criticism of the national election by a section, she said a political party has to pay the price when its leader makes a mistake. 'But, why should the democratic process of a country be destroyed for that? The country has been witnessing massive socio-economic development since there has been a democratic process.'
Without naming anyone, Hasina asked to listen the speech by Yahya Khan delivered on March 26, 1971, where he had solely held Sheikh Mujib responsible, saying that the order of death sentence was issued by Pakistan only against Mujib during that time. 'Now we hear many things, but time has not come to respond to all of those. However, time will come one day.'
The prime minister also recalled the martyrs of the August 15 killing with a heavy heart.
She also sought the blessings of all so that no one could play 'ducks and drakes' with people's fate and so that no one could snatch the possibility of enjoying a better life.
Industries minister Amir Hossain Amu, commerce minister Tofail Ahmed, agriculture minister Matia Chowdhury, health minister Mohammad Nasim, Dhaka University professor Syed Anwar Hossain, cultural activist Ataur Rahman, journalist Abed Khan and parliament member Simin Hossain Rimi also spoke at the event.
Cultural affairs minister Asaduzzaman Noor and science and technology minister Yeafesh Osman recited poems remembering the martyrs of August 15 massacre.
Earlier, a one-minute silence was observed in memory of the martyrs.
News Courtesy: www.newagebd.net