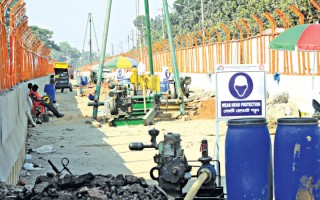 Poor safety records of Ital-Thai Development Private Company Limited worry experts and officials of two mega projects the company is implementing in crowded Dhaka as seven accidents during construction of an elevated railway in Bangkok have killed seven people.
The incidents have been taken place in the past four years as the Ital-Thai has been constructing the Red Line Project in the Thai capital with loan from Japan International Cooperation Agency.
While JICA is reportedly mulling over blacklisting Ital-Thai for its poor safety records, local transport experts said that safety clauses of the two infrastructure projects –– Dhaka Elevated Expressway and JICA-funded Dhaka Elevated Metro Railway –– should be reviewed.
The Japan International Cooperation Agency has begun considering blacklisting Ital-Thai due to its spotty safety record, which includes the recent death of 3 rail line construction workers hit by a falling metal beam, National News Bureau of Thailand reported on May 1.
Ital-Thai has been awarded Dhaka Elevated Expressway project worth Tk 11,535 crore and three components of Dhaka Elevated Metro Rail project worth about Tk 22,000 crore.
First Dhaka Elevated Metro Rail Co Ltd managing director Montchai Musicabud, representing Ital-Thai, refused to talk about the company's poor safety records and the threat of being blacklisted by the JICA.
He also declined to comment on the criminal cases filed by the Thai labour ministry against the company in May after a steel structure fell off a pillar on the Wat Don Muang School killing three workers on April 28.
He told New Age on Saturday that the company information was available on Ital-Thai website.
Ital-Thai is listed with the Thai stock exchange. The price of its share almost halved in the past two years.
A worker, Rabiul Islam, was injured seriously Saturday night as a mammoth concrete slab crushed his legs at Agargaon site office while Masud Enterprise, a sub-contracting firm picked by the Ital-Thai was shifting slabs to be used in the elevated metro rail project.
Rabiul was sent to his home in Jamalpur after the accident, said workers at the site alleging that a novice was operating the crane during the accident without adequate safety measure and sufficient light.
Dhaka Mass Transit Company Limited chief engineer Abdul Baquee Miah admitted that an accident took place at the Agargaon site office.
The accident was not serious, he said.
Upon his advice New Age contacted site office manager Tawhid for details about the accident.
Tawhid declined to comment.
Dhaka Mass Transit Company Limited managing director MAN Siddique said that he was not aware about such incident.
Ital-Thai that would begin construction of depot and the elevated rail-line between Uttara and Agargaon in next six months is now completing preparatory works.
Four workers were killed with construction of the much-talked about Moghbazar-Mouchak Flyover in two accidents prompting the High Court to direct construction company Toma to take adequate safety measure on March 26, 2016.
The most grisly accidents took place in Chittagong in 2012 leaving 15 people killed under three fallen girders of the Bahaddarhat Flyover.
Bangladesh University of Engineering and Technology teacher Moazzem Hossain said that there should not be any compromise on safety during the construction of infrastructure projects.
Proper monitoring is needed to avert casualties due to lack of safety measures by the contractors, said Hossain, also the Accidents Research Centre director.
Concerning over safety, the Dhaka Mass Transit Company Limited has already asked the Ital-Thai for submitting comprehensive safety plans.
Dhaka Mass Transit Company Limited officials said that they were aware of the fatal safety lapses of Ital-Thai in Bangkok. They, however, said that there was no scope for Dhaka Mass Transit Company Limited to terminate the present deals with Ital Thai.
JICA has already approved the contracts with Ital-Thai.
Ital-Thai has participated in the tenders for winning the contract for the construction of the elevated rail-line between Agargaon and Motijheel.
The performance of Ital-Thai was also disappointing after it failed to start the construction of the Dhaka Elevated Expressway because of lack of fund since 2011.
Project director Quazi Muhammad Ferdous said that one sixth length of the 19.73km expressway would run above the rail tracks in the capital, he added.
News Courtesy: www.newagebd.net