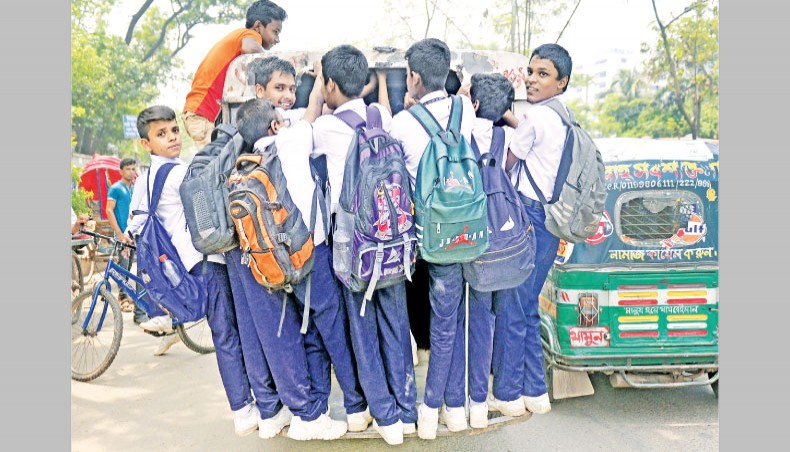 Reckless bus driving in the capital made three victims in the 1st 11 days of this month.
Ttumir College student Rajib Hossain has been on life support at the Dhaka Medical College Hospital after losing his right forearm on April 3.
Housewife Ayesha Khatun became paralyzed as her spinal cord was severely damaged on April 5.
Runi Akhter, MBA student at the University of Development Alternative, whose right leg was smashed under the wheels of a speeding bus at the Farmgate on April 11 is worried about her future.
Doctors were unable to say immediately whether or not she would be able to walk on her own again.
Ayesha's husband Tanzir Ahmed Taher told New Age that she became paralyzed from her waist and downwards.
He said that the doctors could not say whether her paralysis was temporary or permanent.
Mom of two children she met the accident while bringing her school going daughter in a rickshaw that was sandwiched between two speeding buses near the New Market.
Though the High Court Division in a suo moto order directed the secretaries of the ministries of home, health and roads and highways to take the full responsibilities of Ayesha's treatment none of them even enquired about her condition, said Taher.
The court also asked for arranging her treatment abroad if needed at the cost of Bikash Paribaha.
The bench directed the BRTA chairman to cancel the driving licenses of both the drivers.
On April 8, a bench of Justice Zubayer Rahman Chowdhury and Justice Iqbal Kabir had issued the suo moto order.
He said that he already spent over Tk two lakh for her initial treatment.
Taher said after surgery at the Lab Aid Hospital on April 12 she was shifted to the Center for the Rehabilitation of the Paralysed.
He said that having to look after two minor children and running between the hospital and his own work was proving quite difficult for him.
Rajib's doctor and DMCH orthopaedic department head Dr Shamsuzzaman told New Age that Rajib stood slim chance of survival.
Rajib right forearm was severed from his upper arm near Karwan Bazar as a speeding bus trying to overtake another bus in which he was commuting.
Ibn Sina Hospital professor Idris Ali who operated upon Runi's leg said she might not need amputation though her condition was still critical.
After she put her left foot on the divider the bus ran over her right leg when passersby took her to the National Institute of Traumatology and Orthopedic Rehabilitation.
Runi's father Rafiqul Islam said that at least Tk three lakh would be needed for her initial treatment.
He said that Runi was on her way to office as she was doing a job to meet her educational expenses.
He said that he contacted the New Vision bus company which refused to pay any compensations.
On Monday, friends and fellow students of UODA formed human chain at Sat Masjid Road close to their campus demanding compensations from the bus company so that she could meet the cost of her treatment.
Hundreds of student protesters also demanded that the perpetrators of the accident be brought to justice.
Three cases were filed with the Shahbagh, Tejgaon and New Market police stations.
Police said that they arrested the drivers of both the buses involved with Rajib's accident at Karwan Bazaar and the drivers of New Vision and Bikash Paribahan who caused the two other accidents.
But as the accident at New Market took place between two buses of Bikash Paribahan in which Ayesha was seriously injured, the driver of the other Bikash Paribahan bus could not be arrested as yet.
On Monday bail petitions of drivers Yunus and Korshed, who caused the accident at Karwan Bazaar putting Rajib's life in jeopardy, was rejected by the court of Metropolitan Magistrate Nurunnahar Yasmin.
News Courtesy: www.newagebd.net