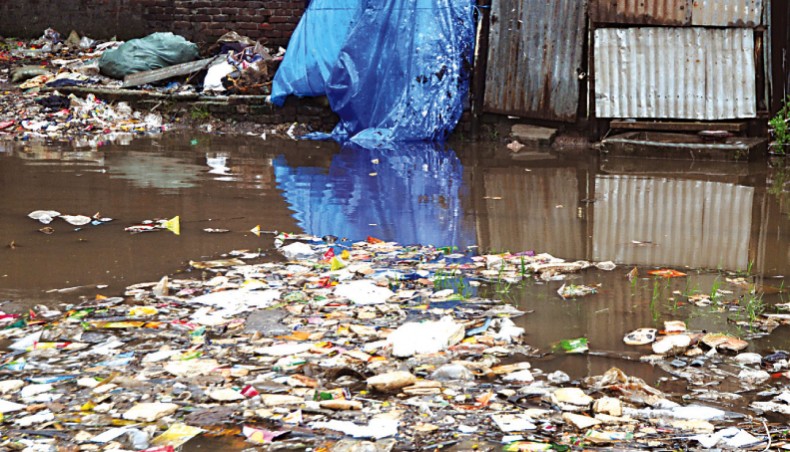 Capital's inefficient waste management increased threat to public health and environment.
Besides, wastes left in the open here and there create serious inconvenience for the public.
The situation gets unbearable for the public when the wastes are carried to roads, footpaths and even homes.
Quite often, dangerous medical wastes and electronic wastes are also brought to school campuses, offices and homes by rain waters.
Residents told New Age that they find none to complain when hazardous medical wastes, electronic and electrical wastes as well as municipal wastes were carried to their homes, offices and business centres.
They said that the wastes often choke the drainage network to create water logging, another serious problem to which people get no remedy.
City corporations waste dumping stations on busy roads increase traffic jams and cause other serious public health concerns besides releasing foul odor.
This problem is particularly acute at Malibagh Level Crossing, Dhalpur New Road, Bir Uttam CR Datta Road, Asad Avenue at Mohammadpur, Badda Link Road, New Eskaton Road, Khilgaon Road, the roads beneath the Mayor
Mohammad Hanif Flyover, Mirpur Road at Dhanmondi 32 and Kalabagan.
Moin Uddin, owner of a small shop at Bou Bazaar at Dhalpur, Jatrabari said that customers and he himself found it nauseating to see rain water bringing all sorts of dirty wastes to his shop Saturday.
He said, the stagnant rain water was gone on Sunday but all sorts of wastes were left inside his shop and also in front of it.
Narrating his plight, Dhaka College student Tanvir Hasan said while crossing a busy streets at Motijheel Commercial Area on Saturday he had to wade through knee deep water with fish scales, kitchen wastes, abandoned tube light bulbs, thrown away medicines, saline packets and even dead dogs floating here and there.
All these wastes contain, mercury, lead, cadmium, zinc and other hazardous and harmful elements, said Department of Environment director Mirza Showket Ali.
These wastes are harmful for public health, environment and ecology, he said.
Paribesh Bachao Andolon chairman Abu Naser Khan said getting into water bodies these poisonous wastes destroy aquatic life.
Bangabandhu Sheikh Mujib Medical University hepatology professor Mamun Al Mahtab said such hazardous elements might cause water borne diseases, kidney damage, cancer, asthma, nervous breakdown, early hair fall and other serious health issues.
Cleaners of the capital's two city corporations dump waste at over 600 spots on the busy roads round the clock causing acute public sufferings by foul odor originating from garbage bins.
Dhaka North City Corporation chief waste management officer commodore MA RAzzak said that the issue would be there until the bins were kept inside secondary transfer stations, in short STS.
DNCC officials said that now only 52 STSs are in place to keep 120 waste bins.
They said that DNCC had plans to put in place at least 20 more STSs.
Dhaka South City Corporation additional chief waste management officer Khandoker MIllatul Islam said they have 15 STSs in place now and need 35 more.
The High Court Division on October 16 directed the two city corporations to stop transporting garbage by uncovered vehicles and asked them to collect and transport garbage between 10 PM and 6AM.
A bench of Justice Quazi Reza-Ul Hoque and Justice Mohammad Ullah asked the two corporations and other respondents including the LGRD Ministry to submit separate compliance reports through affidavit in 45 days.
News Courtesy: www.newagebd.net