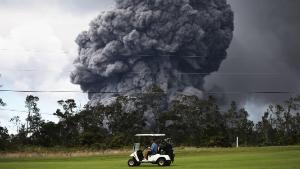 Pahoa, Hawaii (CNN)A plume of ash from the Kilauea volcano rose 12,000 feet into the air before dropping ash on sections of the Big Island of Hawaii, prompting officials Tuesday to warn residents to stay indoors and airplanes to stay away from the area.
"We've seen the waxing and waning (of volcanic activity over the past few days). It seems that the system up at the summit has been what we call somewhat open, relieving that pressure," Michelle Coombs, a geologist who is the scientist-in-charge at the Alaska Volcano Observatory, told reporters in Hilo, Hawaii. "So, it intensified today but it wasn't the big one."
That doesn't mean the "big one" won't happen, Coombs said. The volcano could "plug up" as the magma level in the crater drops and the pressure below could build up, she said.
She said her team isn't quite sure what caused Tuesday's slightly more intense ash emissions.
US Geological Survey officials have said a phreatic eruption could happen at Halemaumau crater at the top of the Kilauea volcano. And it could send ash plumes as far as 12 miles from the summit crater, the Hawaiian Volcano Observatory said.
The USGS changed its aviation color code for the area to red.
"It's very hazardous for aviation," Coombs said.
Weather officials issued an ashfall advisory that ended around 6 p.m. local time.
According to the USGS, ash has fallen as far as 18 miles from the volcano.
Hazardous air
Besides the ash, which is not poisonous, residents have to worry about choking on sulfur dioxide.
Coombs said the gas is coming out of 21 fissures, or cracks in the ground, caused by the volcano.
Levels of the toxic gas are dangerous in some places, Hawaii County officials said.
"Severe conditions may exist such as choking and inability to breathe," the county's civil defense agency said. "This is a serious situation that affects the entire exposed population."
News Courtesy: www.cnn.com