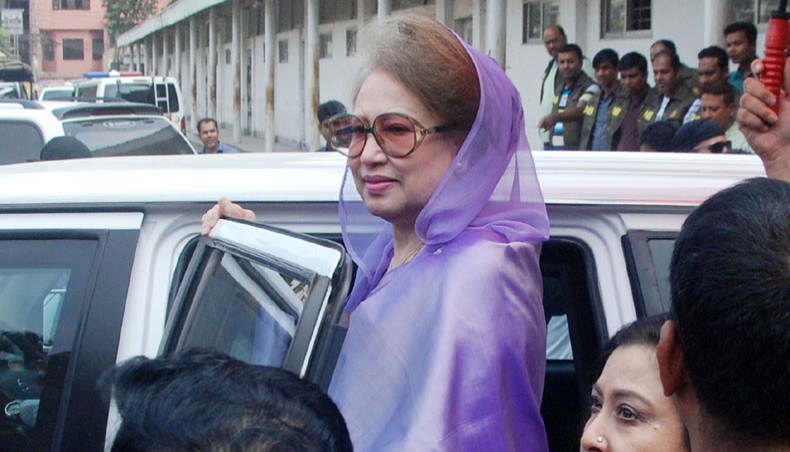 The Dhaka Special Judge's Court-5 on Thursday decided to continue trial proceedings of Zia Charitable Trust graft case at old central jail in the absence of Bangladesh Nationalist Party chairperson Khaleda Zia.
Judge Md Akhtaruzzaman of the court passed the order on a prosecution plea.
Earlier, Anti-Corruption Commission prosecutor Musharraf Hossain Kajol moved a petition for skipping the hearing of arguments stating that Khaleda was unwilling to appear in the makeshift courtroom inside the old Dhaka Central Jail while defence counsel of other accused were not making arguments.
The prison authorities for the second consecutive day reported to the court that Khaleda was unwilling to appear before the court.
Earlier on September 5, appearing in the makeshift court in jail for the first time, Khaleda Zia told the court, 'There is no justice here. Punish me as much as you want, but I cannot appear here [the court] frequently as I am sick.'
The prosecutor cited Section 540A of the Code of Criminal Procedure that stipulated provisions for inquiries and trial being held in the absence of accused in certain cases.
Defence lawyers Sanaullah Miah, Masud Ahmed Talukdar and Aminul Islam argued that the provision could be used for the person escaping trial but Khaleda was now in jail and sick.
Previously, the proceedings used to take place at a makeshift court at Bakshibazar but on September 4, the law ministry issued a gazette notification on setting up of the makeshift court inside the jail.
On February 8, the same court jailed Khaleda for five years in the Zia Charitable Trust graft case.
News Courtesy: www.newagebd.net