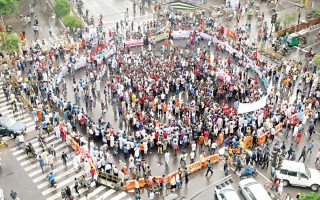 Descendants of freedom fighters on Saturday gave the government until Monday to remove the circular that scrapped quota for Class I and Class II government jobs.
They issued the ultimatum from a rally in the capital as they continued their protest for the fourth consecutive day at Shahbagh intersection in the capital.
Leaders of the newly formed platform of the protestors, Muktijuddha Mancha, urged descendants of freedom fighters across the country to block all highways to expedite their protest.
'We will continue our protest until our lone demand for retention of quota is realised,' spokesperson of the platform DU professor AKM Jamal Uddin told the rally held.
'Circular scrapping quota system must be cancelled at Monday's cabinet meeting, otherwise we will launch stern protest,' he threatened.
Descendants of freedom fighters are on the street since October 3 afternoon blocking Shahbagh intersection in reaction to cabinet meeting's decision to abolish the quota system for the Class I and II government jobs. The next day the government issued a circular in this regard.
Cabinet endorsed a proposal of the secretary-level committee for scrapping quota system in the wake of months-long quota reform movement by students and job seekers.
At least 30 freedom fighters and descendants of freedom fighters while speaking at the rally amid rain said that the government's decision was part of the conspiracy of anti-liberation forces and they were trying to call prime minister Sheikh Hasina's role into question.
They also alleged that by scrapping the freedom fighters' quota, the authorities insulted the freedom fighters.
'The circular was a black one and illegitimate and anti-constitutional,' AKM Jamal Uddin said.
Enamul Haque, a protestor from Brahmanbaria, said that secretary committee made the decision to tarnish the image of prime minister.
Mujibul Reza, a protestor from Barishal, said that by scrapping the quota the government demeaned the freedom fighter that fought for country's liberation war.
'We will create a strong movement across the country against the decision,' he warned.
New Age Rajshahi University correspondent reported that physically-challenged students and ethnic minority students of the university on Saturday held separate demonstrations on the campus demanding five per cent quota in government job recruitment for them.
In a human chain held in front of the university main entrance, the students under the banner of Bangladesh Protibondhi Shikkharti Okkoy said that 10 per cent of the total population of Bangladesh was physically challenged.
Abolishing the quota would hinder balanced development of the country, they said.
Among others, the organisation's convener Humayon Kabir, joint convener Moniruzzaman Sohel, Sujon Ahmed and executive member Mujahidul Islam addressed the human chain.
Besides, leaders and activists of Adibashi Pahari Chhatra Parishod of the university unit brought out a procession from the university's Kajla Gate around 9:00am and blocked Dhaka-Rajshahi highway in front of the university with the same demands.
News Courtesy: www.newagebd.net