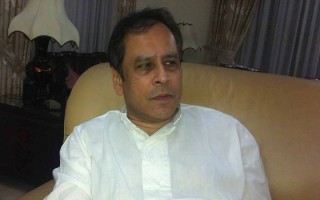 Economist Reza Kibria, son of slain Awami League leader and former finance minister Shah AMS Kibria, is likely to be the Jatiya Oikya Front's candidate for next general elections at Habiganj 1 constituency.
Reza, who works with the United Nations and also acts as an economic adviser to the Cambodian government, has already joined Gano Forum led by the alliance supremo Dr Kamal Hossain.
He also collected nomination form for Habiganj 1 constituency on Friday.
The joining of the top Awami League leader's son to rival political camp triggered sensation in Habiganj as the Awami League always blamed BNP-Jamaat for killing SAMS Kibria in a grenade attack at an Awami League rally at Baidyer Bazar in Habiganj on January 27, 2005.
News Courtesy: www.newagebd.net