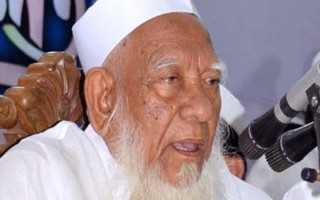 Hefazet-e-Islam chief Shah Ahmed Shafi on Friday asked his followers not to send their daughters to school.
Shafi, also chairman of Bangladesh Qawmi Madrasah Education Board, said if it was necessary at all, send the daughters to school to study up to class four or five.
He was addressing the yearly Mahfil organised by Darul Ulum Moinul Islam Madrassa, Hathazari, Chattogram after jumma prayers.
Also the madrassa director, Shafi said, 'Please don't send your daughters to school. You can allow them to study up to class four or five so that they can count their husband's money and write letters. But if you let them study more — up to class nine, ten, MA and BA — she would be no more your daughter. You have been seeing all these in newspapers. Other people would snatch her away.'
Shafi said that the real peace lied in the ideology and spirit of our Prophet Hazrat Muhammad (SM).
Hefazat-e Islam Bangladesh secretary general Zunayed Babu Nagri, Hathazari Madrasa teacher Sheikh Ahmed, Mawlana Abdul Baset Khan Siraji, Mufti Jashim Uddin, Mawlana Azizul Haque Al Madani, Mawlana Khaled Saifullah Ayub, AFM Khalid Hossain, Mawlana Forkan Ahmed and Mawlana Nurul Islam also spoke.
On September 18, 2018, the parliament passed a bill to recognise Dawra-e-Hadith (Takmil) degree of Quomi Madrasah with the status of post-graduate degrees and prime minister Sheikh Hasina was given a reception by Quomi Madrasah at Suhrawardy Udyan in Dhaka in November 2018 for recognising the top Qawmi degree.
News Courtesy: www.newagebd.net