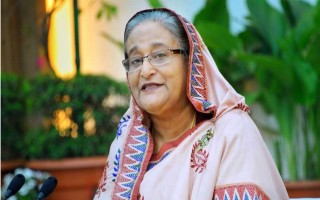 Prime minister Sheikh Hasina on Monday vowed to uphold the trust and confidence of the country's people for 'giving her party the opportunity to form the government for the third consecutive time'.
'You've put your confidence and trust upon me, you've cast votes in favour of Awami League. I'll surely uphold the dignity of that trust and confidence. We'll advance the country further towards development and prosperity,' she said.
Sheikh Hasina said this while talking to media after exchanging Eid-ul-Azha pleasantries with a cross section of people, party leaders, activists and professionals at her official residence Gonobhaban in Dhaka.
She also mentioned that the living standard of the people was improving, their income was increasing, and poverty rate was declining.
'We want to establish Bangladesh as a developed and prosperous country as dreamt by Father of the Nation Bangabandhu Sheikh Mujibur Rahman. We're working towards that direction,' she said adding, '…the month of August comes with pain, grief and sorrow. I've lost my parents and most of the family members on August 15, 1975.'
Like previous years, some of the visitors utilised the opportunity to draw attention of the top executive of the country to their woes and sufferings. They sought her intervention and support to resolve those problems.
Later, PM Sheikh Hasina exchanged Eid pleasantries with Supreme Court judges, senior civil and military officials and envoys of different friendly countries.
News Courtesy: www.newagebd.net