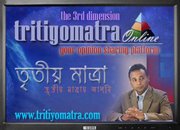 Tritiyo Matra, the award winning Talk Show by Zillur Rahman on Channel-i Bangladesh telecasts its three thousandth (3000) episode setting a new milestone in the history of television programs in the world, for this is the second highest number of episodes ever telecast by any television program after The Oprah Winfrey Show.
This benchmark achievement might re-define "success of television programs" from all new perspectives, for what it means is -
3,000 days of telecast
9 years of telecast on each and every day
3,000 hours of open discussion on current affairs
6,000 hours = 3,60,000 minutes = 2,60,00,000 seconds of air time
And
1000+ Guests have participated in the talk show till date.
4,50,00,000+ Viewers across 6 Continents of the World has seen it.
10,000+ Internet Users visit tritiyomatra.com to share their opinion everyday.
So "what is your opinion?"