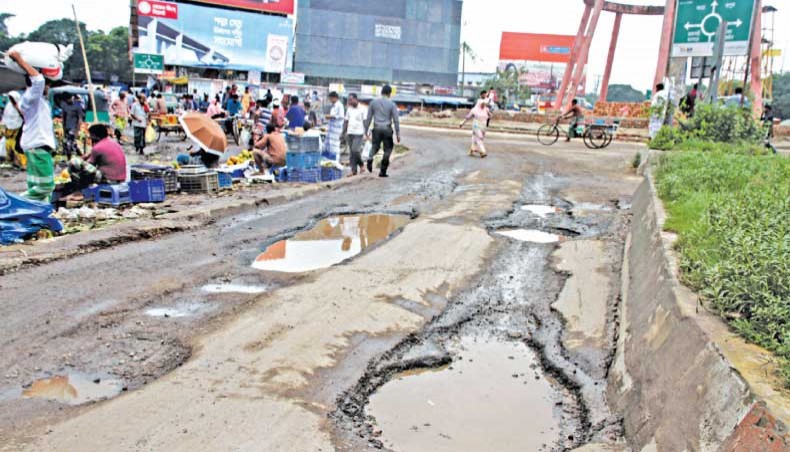 Most of the national and regional highways and district roads, battered by rain for days, have been in a dilapidated condition, much to the worries of holidaymakers ahead of Eid-ul-Azha.
New Age correspondents from Sirajganj, Tangail, Gazipur, Jessore, Sylhet, Comilla, Chittagong and Rangamati have reported about the sorry state of highways and roads with countless potholes, traffic congestion and water stagnation.
Eid-ul-Azha, one of the biggest festivals of the Muslims, is to be celebrated in the first week of September.
Roads and Highways Department officials have also admitted that highways and roads in Sirajganj, Bogra, Dinajpur, Rangpur, Jessore, Khulna and Sylhet are in poor condition.
Road transport and bridges ministry additional secretary Md Faruque Jalil told New Age that last week a directive had been given to repair all roads under the department by seven days before the upcoming Eid.
'Once the sky will become clear, we will start the repair works,' he said, apprehending that if rain continued, they would put brick on roads as it would not be possible to use bitumen amid rain.
New Age correspondent in Sirajganj reports that despite RHD's initiative to keep Hatikumrul-Dhaka, Hatikumrul-Bonpara and Bogra-Nagarbari highways active by using 'Herring Bone Therapy' with brick, continued rainfall damaged the work.
Earlier on August 9, RTB minister Obaidul Quader stand released RHD's Sirajganj office's executive engineer Abu Hena Mostafa and serve show cause notice on additional chief engineer (Rajshahi) and additional
superintendent engineer (Pabna) after witnessing the poor condition of roads in the area.
Additional chief engineer Abu Rawshan said the authorities earlier allocated Tk 6 crore to maintain and repair national highway in Sirajganj and the show cause notice was served on the allegation of looting this money.
Obaidul had then also given a deadline of 10 days within which to repair all highways in the district but with only three days left, the highways remain in almost in the same condition.
Dhaka-Rajshahi highway's five kilometre Nalka-Hatikumrul stretch, 15 km Hatikumrul-Mannannagar, 10 km Hatikumrul-Ullapara and 17 km Hatikumrul-Chandaikona intersection stretches are filled with potholes which cause congestion and accidents.
RHD's Sirajganj office's deputy-divisional engineer Zahurul Islam said that incessant rain created new potholes on national and regional highways while rain disrupted their works.
New Age correspondent in Jessore reports that long-route buses on at least 18 routes run through Jessore–Khulna Highway while numerous potholes at several points including some portion of Jessore town, Rajarhat, Narendrapur, Basundia, Prembagh and Nawapara industrial town hamper the journey.
Potholes were also seen on Jessore-Benapole highway, Jessore-Magura, Jessore- Jhenidahr, Jessore-Satkhira and Jessore-Narail roads.
New Age correspondent in Tangail reports that dilapidated condition of the Dhaka-Tangail-Bangabandu Setu highway and approach roads, connected 22 northern districts with the capital are now in bad shape after the recent downpour.
Gorai, Sohagpara, Mirzapur, Jamurki, Pakullah, Natiapara, Korotia bypass, Bhatkura, Ashokpur bypass, Rabna bypass, Rosulpur, Pouli, Elenga, and Hoteya in 65 km highway in the district are filled with countless potholes and cracks causing risky ride for the commuters.
Currently, a two-hour journey from Dhaka to Tangail sometimes takes up to eight hours due to four-lane expansion works and rainfall, road users have complained.
Tangail Bus-minibus Sramik Samity secretary Meer Lutfor Rahman Lalju express his fear that the 'sub-standard' repair works could be damaged by slight rainfall and heavy pressure of the transports during Eid.
Sources said cattle market at different places beside the highway would be the main cause of congestion before Eid.
New Age correspondent in Gazipur reported that passengers of 43 routes from northern and north-west districts use the 12 km Tongi-Chandna intersection highway are experiencing congestion due to dilapidated conditions of the highway.
Traffic congestion is also a regular phenomenon at Dhaka-Tangail highway's Konabari, Mouchak, Shafipur and Chandra and in Chandra-Bairpara, Bhogra bypass-Mirzapur and Mirzapur-Gorai areas because of the four-lane construction work, rainfall and wrong lane driving.
New Age correspondent in Sylhet has reported that about 155 km road in the district has remained in a dilapidated condition with numerous potholes and cracks for lack of necessary maintenance.
The areas in bad shape cover Sylhet city to Sherpur portion on Dhaka-Sylhet highway, Sylhet city to Gabindaganj portion on Sylhet-Sunamganj highway and portions of Sylhet-Tamabil and Sylhet-Companiganj highways.
RHD district executive engineer Uthpal Samanta said development works on Sylhet-Companiganj and Sylhet-Sunamganj highways were delayed by heavy rainfall.
New Age correspondent in Comilla reports that traffic congestion is regularly seen at Nimshar under Chandina upazila on Dhaka-Chittagong highway while illegal kitchen markets are rampant at Tomtom bridge-Shaktola Survey Institute portion on the highway.
New Age correspondent in Chittagong reports that many portions of Dhaka-Chittagong and Chittagong-Cox's Bazar highways and Chittagong-Kaptai and Chittagong-Khagrachhari inter-district roads have been damaged by rain.
The road stretch from Dhaka-Chittagong highway's Chittagong City Gate to Dhumghat portion and in Choitoinnerhat, Chinki Astana, Sonapahar, Mastan Nagar, Mithachhara, Fouzderhat, Kumira areas are filled with potholes.
New Age correspondent in Rangamati reports that locals and holiday makers will be suffering as the 74 km Rangamati-Chittagong road has not been opened for all modes of transports even after two months of landslides on June 13.
RHD's district executive engineer Amdad Hossain said they were trying to open the highway for all vehicles within a few days.
Conditions of Rangamati-Khagrachhari and Rangamati-Kaptai-Bandarban inter district link roads are still in sorry state.
News Courtesy: www.newagebd.net