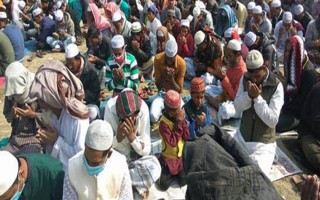 The first phase of the 53rd Bishwa Ijtema, a congregation organised by Tabligh Jamaat, on the bank of the River Turag at Tongi in Gazipur, ended on Sunday morning with the Akheri Munajat (concluding prayer).

Hundreds of thousands of devotees attended the concluding prayer of the three-day Ijtema, the second largest congregation of the Muslims after Hajj.
Kakrail mosque imam Hafez Maulana Mohammad Zubayer conducted the half-an-hour-long prayer for the first time in Bangla that started around 10:40am.
Before the concluding prayer, a sermon guiding Muslim devotees was also delivered in Bangla by Maulana Abdul Matin.
Senior Tabligh leader Maulana Saad Kandhalvi from Delhi, who had delivered the beginning sermon and led the concluding prayer, for last few years, went back from Bangladesh without attending the Ijtema amid the protests by followers of a section of Tabligh Jamaat shura members.

Traditional wedding ceremony, used to be held on the second day in each session of Ijtema, also was not held this year.

Organisers said a total of 3,919 overseas devotees from 79 countries and hundreds of thousands of devotees from 14 districts of the country joined the first phase of Ijtema.
All entrances to the venue from Vogra Bypass on the Dhaka-Mymensingh Highway, from Nimtali on the Dhaka-Sylhet Highway and from Bipail on the Dhaka-Tangail Highway were closed for traffics from 12:00am on Sunday till the end of akheri munajat, Gazipur traffic police said.

In the capital, traffic movement was restricted on the Dhaka-Mymensingh Road stretching from Mohakhali to Abdullahpur from 4:00am to the end of the concluding prayer.

The second phase of the congregation will be held between January 19 and January 21.

The first Ijtema was held at Kakrail Mosque in Dhaka in 1946. This was followed by a congregation at Chittagong Hajji camp in 1958.
News Courtesy: www.newagebd.net