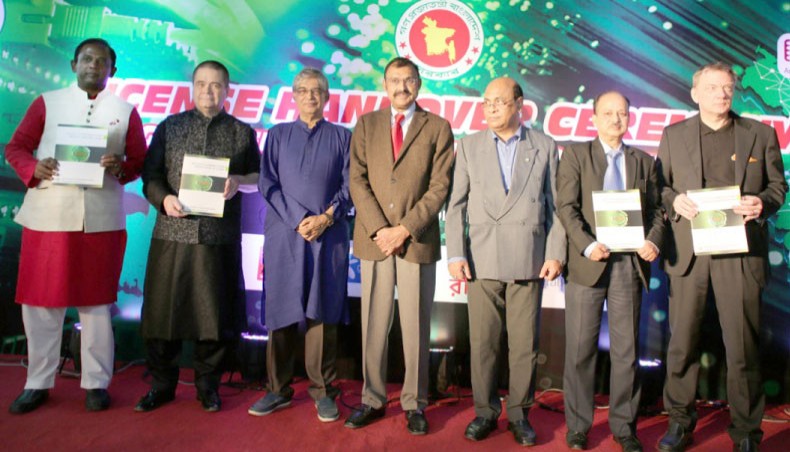 Three mobile phone operators— Grameenphone, Robi and Banglalink— on Monday launched 4G mobile phone services on a limited scale after receiving licences from the telecom regulator.
In presence of telecom and information technology minister Mustafa Jabbar, Bangladesh Telecommunication Regulatory Commission chairman Shahjahan Mahmood on Monday awarded the licences to four mobile phone operators, which also include state-run mobile phone operator Teletalk, at a ceremony held at Dhaka Club in the city.
He handed over the licenses to Teletalk managing director Kazi Md Golam Quddus, Grameenphone chief executive officer Michael Foley, Banglalink CEO Erik Aas and Robi CEO Mahtab Uddin Ahmed.
State-run mobile phone operator Teletalk is yet to launch the 4G service, which allows faster internet speed, due to lack of preparation.
Soon after getting the licences, operators on Tuesday evening launched the 4G services on a limited scale in Dhaka city along with a number of cities outside the capital.
GP chief executive officer Michael Foley announced the launch of 4G service through Facebook Live in selected areas of Dhaka city and Chittagong, marking the beginning of its nationwide rollout of 4G services.
He said that GP subscribers at 80 sites were getting 4G services.
'Indeed this is a proud moment for us all in Bangladesh and a big milestone to the realisation of Digital Bangladesh,' said Foley after the launch.
Currently, Grameenphone's 4G services are available at Basundhara, Baridhara and Gulshan areas of Dhaka, along with Dampara, Khulshi and Nasirabad areas of Chittagong, a GP statement said.
Additional areas of Dhaka and Chittagong will come under GP's 4G coverage within a few days. Most divisional cities are also expected to come under 4G coverage very shortly.
Robi and Banglalink also launched 4G services some parts of the country as well from the event.
Robi managing director and CEO Mahtab Uddin Ahmed said they had covered 179 sites in different cities with the fasted internet service.
'4G will be available in shortest possible of time although eco-system is not ready for it set,' he added.
Robi announced 4G service will be available in all the district headquarters from today.
'This is a great day for us as we step into a new era of digital connectivity,' said Erik Aas, CEO of Banglalink after the launch of the service.
The third largest operator announced the launch of 4G service in Dhaka, Chittagong, Khulna, and Sylhet covering over 200 sites.
After the 4G service launch, BTRC chairman Shahjahan Mahmood said that would enact a directive on quality of service
guideline where minimum speed for this service would declared as 7 Mbps and it would go for tough on ensuring quality.
Mustafa Jabbar said that mobile phone would be centre of providing government's service which was adopted during the formulation of digital Bangladesh campaign, and the move gets momentum through the launch of 4G.
For enjoying this service customers mobile gadget needs to be 4G enabled and before that they also need to replace their SIM with a 4G enabled one.
However iPhone users may have to wait for some days to enjoy the service, as Apple is yet to make 'carrier setting update' for their device for Bangladesh.
Operators also said that they would comply with the roll-out obligations mentioned under the 4G licence guidelines.
Mobile phone subscribers in the country's major areas are yet to get adequate internet speed mentioned in the 3G quality of service parameters.
Besides, lack of resources of BTRC to measure 4G service quality for ensuring the service is likely to be another issue when the mobile phone operators will actually launch the service.
Under the 4G roll-out obligations mentioned in the 4G guidelines, existing mobile phone operators will have to roll-out 4G service in all divisional headquarters within nine months of getting licence in first phase.
In the second phase, the operators will need to introduce the service in another 30 per cent of the district headquarters within one-and-a-half year of getting licence.
In third phase, operators will have to roll-out the service in all district headquarters within three years from the licence issuance, the 4G guidelines said.
Earlier, on December 5 in 2017, the telecom regulator called for applications or proposals from the competent entities to get the licence.
All the five operators including the out-of-operation Citycell had initially expressed interest to get licence.
The BTRC, however, dropped the operator from its list as it failed to purchase spectrum from the auction held on February 13 this year mainly due to lack of funds.
Besides, Citycell is yet to get tech-neutral spectrum from BTRC till today as it is the last day for submitting application to get tech neutrality.
As tech-neutral spectrum allows an operator to provide any of the mobile phone services including 4G service in any spectrum band, its existing spectrum in 800Megahertz would make Citycell eligible to get 4G service.
News Courtesy: www.newagebd.net