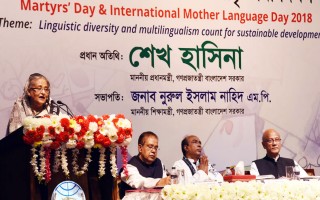 Prime minister Sheikh Hasina on Wednesday urged all to practice and use Bangla in a proper manner and uphold the country's culture and heritage to brighten further its image abroad alongside spearheading the campaign for development.
'We've protected the dignity of our mother language in exchange for blood and got its international recognition, which is a great pride for us,' she said while inaugurating a four-day programme organised by International Mother Language Institute coinciding with the February 21.
'So the people shouldn't forget practice of this language ... as Bengalis, we've to uphold our culture, heritage and other national glories,' she added.
Hasina said that February 21 is observed across the globe in a befitting manner as a mark of honour to the mother language of the people of all languages of the world and 'now the people of all languages of the world know Bangladesh and also know the unforgettable sacrifice of the Bengalis.'
'Ekush taught us not to bow down and that teaching eventually enabled us to earn our independence,' she said.
She recalled that the very first attack was made on culture, language and literature as part of Pakistani rulers' orchestrated conspiracy to destroy 'our nation but the result (of the plot) is that we achieved independence and got the dignity of the nation and a state.'
Education minister Nurul Islam Nahid chaired the function, addressed, among others, by state minister for madrassah and technical education Kazi Keramat Ali and UNESCO representative in Dhaka B Kaldun.
Secretary of National Coexistence Dialogue and Official Languages of Sri Lanka WMPG Wickramasinghe presented the keynote paper on the theme of the day – Linguistic diversity and multilingualism count for sustainable development.
Cabinet members, prime minister's advisers, parliament members, litterateurs, academics, writers, poets, journalists, Ekushey Award winners and high civil and military officials were present. Education ministry's secondary and higher secondary division secretary Sohrab Hossain delivered the welcome address and institute director general Jinat Imtiaz Ali gave the vote of thanks.
At the outset of the function, a minute's silence was observed as a mark of profound respect to the memories of language heroes, who laid down their lives for the cause of mother language.
The prime minister reiterated her determination to build Bangladesh as a country free of hunger and poverty and said that Bangladesh would be elevated to a developing country from least developed country very soon.
She said Bangladesh by now fulfilled all conditions for becoming a developing country taking 'our dignity one step forward.'
She said that the very word 'lower' in any term did not befit a country which earned its independence in exchange for blood and 'we must build Bangladesh as a middle income country by 2021 and a developed one by 2041 Insha Allah.'
She said that the country's founding president Sheikh Mujibur Rahman initiated the language movement when he was a student of the law at Dhaka University and constituted Bhasha Sangram Parishad comprising Tamaddun Majlish, Student League and other student bodies.
Hasina said that in 1956, the Awami League formed government and Hussein Shahid Suhrawardhy became prime minister. 'In that year Pakistan's first constitution was framed where Bangla got the dignity of a state language alongside Urdu,' she said.
The prime minister said that the then Awami League government declared 21 February as a holiday and took a project for the construction of Shaheed Minar, allocated money and started work. 'But the scheme was not implemented at that time due to the declaration of martial law by Ayub Khan.'
She said prime minister said the country's language, culture and heritage got a new lease of life when AL formed government in 1996.
'After assuming office in that year, we worked relentlessly to add excellence to our rich Bangla language,' she said.
Hasina said that the United Nations declared immoral Ekushey February as the International Mother Language Day on November 17, 1999.
Highlighting her government's efforts for development of Bengali culture and Bangla language, Hasina said that she laid the foundation stone of the International Mother Language Institute on March 15, 2001 to protect the dignity of the endangered languages.
News Courtesy: www.newagebd.net