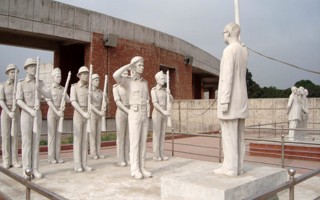 The nation is celebrating today the Mujibnagar Day, commemorating the formation of the provisional government of Bangladesh during the War for Independence in 1971.
On April 17, 1971, senior Awami League leaders led by Tajuddin Ahmed gathered at Baidyanathtala of Meherpur in Kushtia and formed the provisional government of Bangladesh.
The historic development took place 24 days after Pakistani occupation army's crackdown on unarmed Bengalis on the night of March 25, 1971.
Though not present there, Sheikh Mujibur Rahman was made the founding president of Bangladesh.
In the absence of Mujib, who was taken captive by the Pakistani occupation army on the midnight of March 25, 1971, Tajuddin led the War of Independence as the prime minister of the provisional government.
Syed Nazrul Islam was made the acting president.
The seven-member cabinet of provisional government included Khandker Moshtaque Ahmed as the minister of foreign affairs and law, Captain Muhammad Mansur Ali as the finance minister, and AHM Quamruzzaman as the minister for home, relief and rehabilitation.
Retired Colonel Muhammad Ataul Ghani Osmani, also member of national assembly, later General, was made the commander-in-chief of Mukti Bahini.
The provisional government appointed retired Colonel Abdur Rob, also member of national assembly, later Major General, the chief of staff of Mukti Bahini.
The bordering village of Baiddyanathtala, famous for its mangos, was renamed Mujibnagar after Sheikh Mujib who inspired the nation to fight for independence.
The Awami League under the leadership of Sheikh Mujib swept the 1970 general election in the then East Pakistan, now Bangladesh, winning 160 out of 162 National Assembly seats of Pakistan and 288 of the 300 Provincial Assembly seats in the then East Pakistan.
AL, other political parties, socio-cultural organisations have taken elaborate programmes marking the day.
National dailies have published special supplements, Bangladesh Betar, Bangladesh Television and private radio and television channels are broadcasting special programmes to mark the day.
The ruling Awami League has taken daylong programmes.
National and party flags were flown at Bangabandhu Bhaban at Dhanmondi, and AL offices across the country at 6:00am.
AL leaders and activists laid wreaths on Mujib's portrait at Bangabandhu Bhaban at 7:00am.
In Meherpur, deputy commissioner and superintendent of police hoisted flag at Memorial Monument at Mujibnagar in the morning.
Besides, a discussion will be held at Sheikh Hasina Mancha where industries minister Amir Hossain Amu will be present as the chief guest.
A special team of Ansar from Dhaka will present an event titled 'Esho Tarunyer Pathe.'
Dhaka city Awami League will hold a discussion at Bangabandhu International Conference Centre at 3:30pm to mark the day where general secretary Obaidul Quader would be chief guest.
News Courtesy: www.newagebd.net