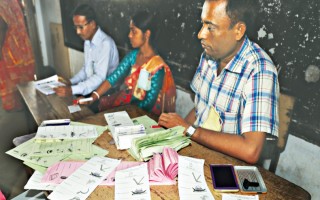 Khulna city mayoral elections ended amid allegations of widespread rigging, ballot stuffing and muscle flexing by ruling Awami League activists on Tuesday, with AL candidate Talukder Abdul Khaleque taking the lead.
The returning officer at its temporary election result announcement centre set at Khulna Divisional Women's Sports Complex announced results of 163 of 289 polling
centres until 11:00pm while Khaleque bagged 94,352 votes while BNP-backed mayoral candidate Nazrul Islam Manju got 59,458 votes.
Jatiya Party-backed SM Shafiqur Rahman bagged 608 votes, Communist Party of Bangladesh backed Md Mizanur Rahman Babu got 328 votes and Islami Andolan Bangladesh's Maulana Mozammil Haque bagged 7,790 votes, according to the announcement by the returning officer.
At 11:00pm, the returning officer suspended the result announcement for two hours until Wednesday 1:00am.
According to results collected from officials of 286 out of 289 polling centres, Awami League-backed mayoral candidate Talukder Abdul Khaleque won the mayoral polls with 1,76,902 votes, defeating main opposition BNP mayoral candidate Nazrul Islam Manju with 1,08,956 votes.
The EC suspended polling in three centres over allegations of irregularities.
There was no major incident of violence but the polls were suspended at three centres due to ballot stuffing and anarchy, said election commission secretary Helaluddin Ahmed.
However, Bangladesh Nationalist Party leaders alleged that agents of the party-backed mayoral candidate Nazrul Islam Manju were forced out of polling centres while voters were barred from entering the polling stations in many areas, with the administration keeping silent.
The polling stations were dominated by the activists of ruling Awami League mayoral candidate Talukder Abdul Khalek, who moved around the polling areas in free style, violating electoral codes, with law enforcers turning a blind eye.
'The allegation of law enforcers turning a blind eye is baseless. There were observers in all the centres. They have seen it. There was media too,' Khulna Metropolitan Police commissioner Humayun Kabir told New Age in the evening.
The EC secretary, however, said that the commission was happy enough with the election as it was held wonderfully.
He came up with the remarks when talking to the waiting reporters at Nirbachan Bhaban in the capital on Tuesday.
There were hardly any queues of voters at polling centres throughout the day while many voters said they could not cast their votes as the polls officials said them that their votes were already cast.
Returning officer Younus Ali said that he tried his best to maintain law and order for holding a free and fair election.
'I have tried to address the allegations of BNP-backed candidate whenever he noticed,' he told New Age.
'But many allegations were not specific,' he added.
Younus said the polling of three centres — two centres at Labon Chora Primary School and at Iqbal Secondary School — were suspended halfway due to false ballot, ballot box stuffing and anarchy.
Manju alleged widespread irregularities, saying, 'The people of Khulna did not expect such a farcical elections'.
Later in the evening, the BNP mayoral candidate demanded fresh votes at over 100 centres allegedly marred by stuffing and other irregularities. He said the voting was far from being free and fair as expected by the people of Khulna city.
Casting his vote at Rahima Primary School centre about 9:00am, he told reporters that his agents were driven out from centres and the agents could not enter many polling centres amid obstruction by the Awami League activists.
Khaleque brushed aside the allegations. 'His allegations are intended to call the election into question,' he told New Age.
He said that the agents of Manju did not come to polling centres.
Visiting several polling centres throughout the day, New Age found that the agents of Manju were missing at most of the polling centres.
At Zilla School centre, New Age found no agent of Manju about 8:30am.
Presiding officer Partha Chatarjee said he saw the agents of Manju before the polling began.
At Pioneer Higher Secondary School at Ward 25, the Awami League men were seen moving in and around the polling centres.
A ballot book was seen half-finished at just 8:15am.
Presiding officer Shamim Mahmud of the centre said the Awami League activists were helping voters cast their votes.
No agent of Manju was seen in the centre.
First time voter Abdul Alim of Ward 29 was seen walking along the corridor of Kailaghat Government Primary School about 1:00pm.
He told New Age that he could not cast his vote as the polls officials told him that his vote was already cast.
No agent of Manju was found at the centres.
An agent of councillor candidate said that the BNP candidate's agents were driven out about 10:00am.
When asked, assistant presiding officer Nirmol Chandra Bairagy said the agents were there but they left for unknown reason.
Presiding officer of the centre Faridul Islam told New Age that the BNP agents did not turn up.
About 12 noon at Maulna Bhasani Bidyapith Girls School, New Age found ruling Awami League activists entering at the polling freely, with the law enforcers keeping their eyes shut.
There was no agent of BNP, but a woman who claimed she was the agent of BNP, could not show her documents.
She said she left the document at home.
The ruling party activists were seen gathering at the polling booths in free style.
Presiding officer Gosto Biswash said that the agents of BNP came in the morning.
Surprisingly, he said 60 per cent of votes were counted by 12noon although there was no queue of voters.
Assistant presiding officer Dipak Kumar was seen standing ballots and a youth was stuffing them in the ballot boxes.
When approached, they said they were just making ready the ballot papers for voters.
About 11:00am at Platinum Jute Mill Secondary School at Ward 11, a big group of youths were seen trying to enter women polling centres.
A polling officer intervened and with law enforcers chased them away.
Presiding officer SM Morshed of the centre said that the votes were being cast illegally.
'I'm under pressure,' he said, expressing his helplessness.
No voters were seen about 11:00am at Tutpara Boys Government Primary School at Ward 28.
A woman claimed to be the agent of Manju could not show his documents.
New Age found two groups of Awami League brandishing arms about 11:45 at Iqbal Nagar Secondary School.
Assistant presiding officer Anisur Rahman said the polling was suspended as one of the groups stuffed ballot boxes.
About 9:45am at Abdul Gani Darul Ulim Madrassah at Ward 24, Awami League activists were seen preventing BNP activists.
Two supporters of BNP were beaten up when they tried to enter the polling centre.
Peaceful voting was seen at BK Union Institution at ward 23 about 8:45am, but the presiding officer, Tarif Uddin Ahmed, said 30 per cent of 1,698 votes of the centre had already been cast in 45 minutes.
Visiting several other polling centres, New Age found a small number of voters.
There were hardly any queues at the polling centres throughout the day.
BNP alleged that Khulna police commissioner instructed stuffing ballot boxes in favour of the ruling Awami League mayoral candidate in the last one and a half polling hour.
BNP senior joint secretary general Ruhul Kabir Rizvi at a news briefing at the party's central office around 4:00pm claimed that the party came to know from different sources that Khulna police commissioner 'directed stuffing ballot papers in favour of boat, Awami League election symbol, at polling centres from 2:30pm till end of KCC poll at 4:00pm.'
Communist Party of Bangladesh mayoral candidate Md Mizanur Rahman Babu said in a press release that voters and polling agents were not allowed at many polling centres.
A total of five mayoral candidates, 148 general councillor and 38 reserved-seat female councillor candidates were in the election race.
Beside Talukder Abdul Khalek and Nazrul Islam Manju, other mayoral candidates were Jatiya Party's Shafiqur Rahman Mushfiq, Islami Andolan Bangladesh's Maulana Mozammil Haque and Communist Party of Bangladesh's Md Mizanur Rahman Babu.
They contested he elections with their respective party symbols, which was for the first time in Khulna City Corporation.
A total of 493,093 voters — 248,986 males and 244,107 females — were expected to exercise their franchise in the election.
News Courtesy: www.newagebd.net