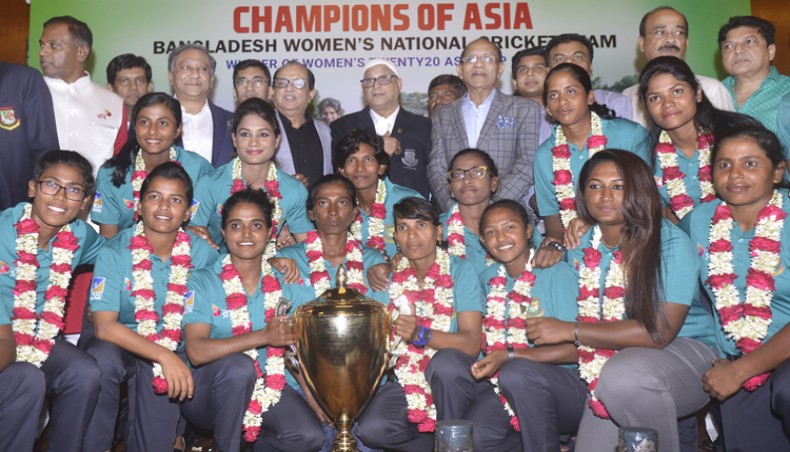 The Bangladesh Cricket Board on Monday announced Tk two crore cash reward for women's national team for their title winning feat in the just-concluding Women's Asia Cup Twenty20 tournament.
Bangladesh women's team defeated six-time champions India by three wickets in the final on Sunday to win their historic maiden title at Kinrara Oval in Kuala Lumpur.
The BCB announced the cash reward during a reception programme held at a city hotel shortly after the team returned home.
The women's team, led by all-rounder Salma Khatun, returned home in the evening and came straight to the hotel, where BCB officials greeted them and accorded a reception.
State minister for youth and sports Biren Sikder, BCB directors, members of men's national team were among others to present on the occasion.
BCB announced that each player of the team would get Tk 10 lakh while the remaining amount would be distributed as performance bonus to players and team management staff.
'We have a tradition of announcing a cash reward when our team win matches,' BCB president Nazmul Hasan told reporters after a board meeting that decided the amount.
'We decided to give our every player Tk 10 lakh each. Apart from that, we will also give some performance bonus for those who have done exceptionally well like Rumana [Ahmed]. We will also provide bonus to team management staff so overall we announce Tk 2 crore as bonus for them,' he added.
Nazmul insisted that the success of the women's team didn't come as a fluke as they did extreme hard work in last few months and achieved the greatest victory in Bangladesh's sports perspective.
'These girls had done extreme hard work. Some people might think that they surprisingly won the title but it was not like that.
'We held a camp in January for the women's team in Khulna. We held another camp in Cox's Bazar in February and in March and April we also arranged a residential camp here, which was quite extraordinary.
'So basically we were preparing ourselves for a long time for the tournament. We also brought foreign coaching staff.
Nazmul also assured players that the Board would give them full support and they should not worry about their wages and facilities.
Minister of youth and sports Biren Sikder also gave his commitment to build a women's national cricket academy.
'Our girls have made us proud. So it is a great day for us,' he said in the programme.
Bangladesh women's team players were delighted with the kind of reception programme arranged by the BCB and they looked much assured after the board president's commitment.
'The board will look after us and we have nothing to say on this issue,' Salma told reporters in the programme.
Jahanara Alam, who hit the winning runs, also explained how she took those runs.
'In the Asian Games 2014, when we needed 43 runs in 42 balls, we lost all the wickets in the last over, and I was watching it from the non-strike end. So I was thinking that I need to finish it off.
'My target was to play straight if the ball was loop. I was hopeful I would get a two or a boundary or over-boundary. Otherwise, I thought I would run for two runs anyway. I only told Salma Apu to run and she asked me just to make a contact,' she added.
In addition to cash prize, national cricket team's sponsor Robi presented every member of the team an iPhone.
Women's team will now play in the ICC World Twenty20 qualifiers in the Netherlands next month.
News Courtesy: www.newagebd.net