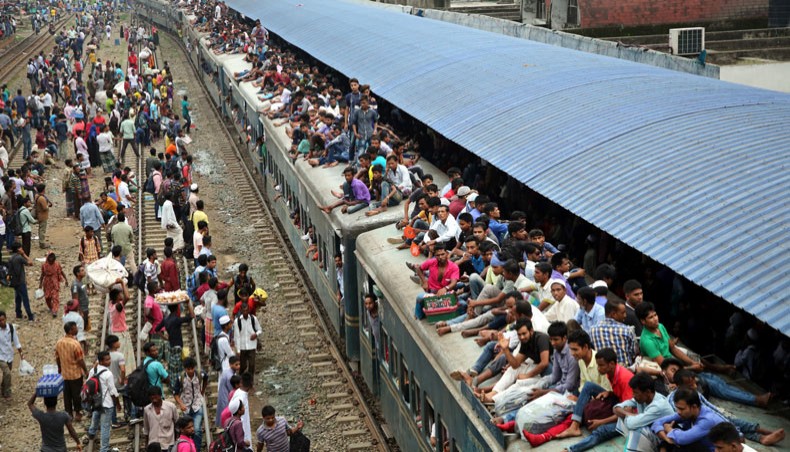 A huge number of people left the capital on Wednesday, with inter-district bus, train and launch terminals witnessing rush as Eid-ul-Fitr is just around the corner.
While their journey is comparatively comfortable this year, long queues of vehicles at some ferry terminals, charging of extra fares, traffic congestion, extortion and potholes on some highways, late schedule of trains and rooftop journey are what they find troublesome.
The rush of passengers is expected to peak today as it is the last working day before three-day Eid vacation beginning Friday.
Road, transport and bridges minister Obaidul Quader on Wednesday said that the Eid journey of holidaymakers would be comfortable this year than previous years as passengers were not facing any trouble on roads, in railways and waterways.
People taking risk get on a truck at Chandra in Gazipur on Wednesday to reach their destinations ahead of Eid-ul-Fitr. — Ali Hossain Mintu
'But, the southern districts-bound holidaymakers have to face trouble as ferry services on Paturia-Daulatdia route are being hampered,' he said while talking to journalists after visiting Gabtali bus terminal.
New Age correspondent in Munshiganj reported that more than 700 vehicles remained stuck at Shimulia ferry terminal while the congestion eased in the afternoon.
Passengers alleged that speedboat operators were charging extra and carrying extra passengers on the route.
New Age correspondent in Manikganj reported that between morning and noon buses and cars had to stay in a long queue for two to three hours before boarding ferries at Paturia terminal.
Vehicles were seen lined up along about four kilometre stretch around 1:30pm which started to ease as the day rolled on and in the
evening vehicles crossed the route smoothly.
A mobile court operated by Bangladesh Road Transport Authority executive magistrate Abdur Rahim Shujan closed counters of Himachal Paribahan on Dhaka-Brahmanbaria route and those of Ekushey and Royal Paribahan on Dhaka-Noakhali route at Saidabad terminal for charging extra fares.
The same court also fined Shanti Paribahan on Dhaka-Jhalkathi and Dola Paribahan on Dhaka-Baghethat route for the same reason.
These operators were charging extra Tk 100 to Tk 150 for per ticket, the magistrate said.
New Age Munshiganj correspondent also reported that about a seven-kilometre tailback towards Dhaka was seen on Dhaka-Chittagong highway's Meghna Bridge to Bhaterchar stretch at Gazaria area till 12:00pm.
The congestion extended to 13km from Meghna Bridge to Daudkandi area between 5:00pm and 7:00pm.
New Age correspondent in Feni reported that some spots on the approach roads on both sides of under-construction Fatehpur railway overpass subsided under huge pressure of vehicles. As a result, vehicles were running slowly.
New Age correspondent in Tangail reported that traffic on Dhaka-Tangail-Bangabandhu bridge highway was normal on the day.
However, there are potholes at Korotia, Tangail bypass, Gharinda bypass, Elenga, Mirzapur and Gorai spots on the highway.
Transport workers have alleged that members of law enforcement agencies are extorting money from goods-laden vehicles.
Huge rush of people leaving Dhaka was witnessed in the capital's Gabtoli, Saidabad and Mohakhali bus terminals.
People rushed to Kamalapur railway station as on the day Bangladesh Railway had five special train services.
The rush was big in the morning but it reduced in the afternoon.
On the day, 59 trains left the station while some started from the station behind schedule. Eid special Lalmoni Express was late by one hour and 40 minutes, Rajshahi Express by one hour and 30 minutes, Sunderban Express by 55 minutes and Dewanganj Express by 45 minutes.
Railways minister Md Mazibul Hoque visited the station where he said some travellers got on the train roofs on their own defying laws.
New Age correspondent in Barisal reported that BIWTC and private launch owners started 11-day special launch and steamer services on Dhaka-Barishal-Dhaka route till June 24.
Rush of people was also seen at Sadarghat launch terminal in the evening.
News Courtesy: www.newagebd.net