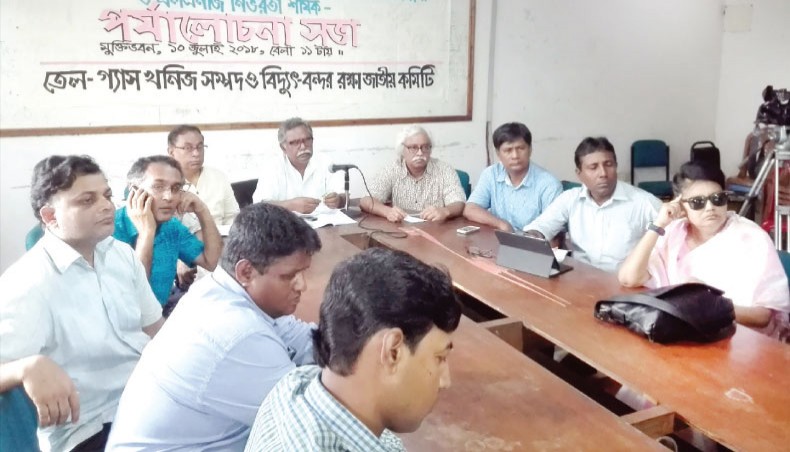 The government's unrestrained bout of increasing power and gas prices despite poor supply was a poor show of the sectors concerned, discussants said at a seminar on Tuesday.
National Committee for Protection of Oil, Gas and Mineral Resources, Electricity Sector and Ports organised the seminar on 'Price hike of gas, electricity: anti-nation mega plan and LNG dependency' at Pragati Convention Centre at Purana Palton in Dhaka, said a release.
The discussants said that consumers got poor supply of gas and electricity although they were paying the government-fixed tariffs.
They slammed the government's move to amend the Speedy Supply of Power and Energy Act 2010, which indemnified corrupt government officials from prosecution for favouring vested interests.
Keynote speaker Moshahida Sultana said that the power and energy sector was becoming dependent on liquefied natural gas and liquefied petroleum gas as the government relied on some private businesses.
Committee member secretary Anu Muhammad said that LNG-dependency would volatile the economy of Bangladesh.
He said that the government could facilitate low-cost electricity by full utilisation of the existing stocks of natural gas.
Communist Party of Bangladesh leader Ruhin Hossain Prince, Revolutionary Workers Party general secretary Saiful Haque, Ganatantrik Biplabi Party general secretary Mushrefa Mishu, United Communist League general secretary Mosharraf Hossain Nannu, Gana Sanghati leader Abul Hassan Rubel and Socialist Party of Bangladesh leader Khalequzzaman Lipon also spoke.
News Courtesy: www.newagebd.net