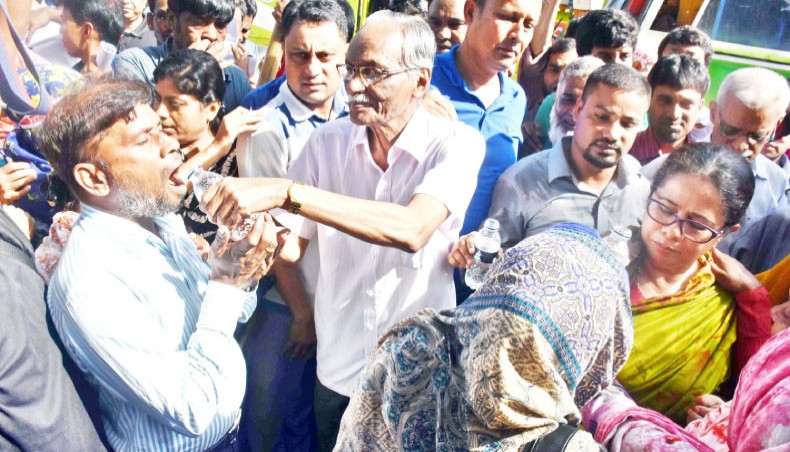 Teachers and employees of non-government secondary educational institutions on Wednesday ended their hunger strike they were observing since June 25 in demand of inclusion of their institutions into the government's monthly pay order system.
The protesters ended their demonstration without any response from the government and the authorities concerned.
Shofiqul Islam, the senior vice-president of the Non-MPO Educational Institutions' Teachers and Employees' Federation, said strikers broke their fast at a request from three eminent citizens, including National Professor Anisuzzaman at 3:30pm.
Protesters left the spot on Topkhana Road, where they started fast unto death finding no allocation in the national budget for including their educational institutions in MPO system.
Later, the teachers left their demonstration spot in front of National Press Club, where they started their agitation
The teachers took to the streets on June 10, initially with half-day sit-ins followed by full day sit-ins and on June 25 began the fast unto death to press their demands.
Anisuzzaman, accompanying with Campaign for Popular Education executive director Rasheda K Choudhury and Liberation War Museum trustee Ziauddin Tariq Ali, expressed his solidarity to the teachers and their demand.
'Being a teacher I came here and requesting all of you to break the fast,' Anisuzzaman said.
He also said that prime minister Sheikh Hasina's statement at parliament was promising and it was expected that the education ministry would take necessary steps to include the educational institutions in MPO system.
Earlier on the day, a delegation of the federation led by its president Golam Mahmudunnobi Dolar met education minister Nurul Islam Nahid and secondary and higher education secretary Sohrab Hossain, said Shofikul.
During the four-hour-long meeting at secretariat, the education minister requested the delegation to call off the demonstration as the process of incorporating the institutions in MPO had already underway.
More than 250 teachers fell sick during their demonstration on the streets under the open sky in scorching heat and sometimes in torrential rain.
The teachers also continued their demonstrations on the Eid day by bringing out processions.
On June 10, the teachers aggrieved over finance minister AMA Muhith keeping mum about the MPO issue in his budget speech, resumed their demonstrations.
Muhith omitting the issue in his budget presentation shocked the teachers as prime minister Sheikh Hasina assured them in January that their institutions would get the MPO benefits from the next fiscal.
In 2010, the government provided MPO benefits to 1,624 institutions.
Several hundred teachers, many of whom were working without pay for even 20 years, had been on the street in front of the National Press Club in Dhaka for their payment from the government since December 26, 2017.
On the first five days, the teachers held nonstop sit-in. The agitators took recourse to hunger strike since January 1, 2018.
Later on January 5, 2017, the teachers called of their hunger strike Sheikh Hasina's assurance of including them in the Monthly Pay Order.
News Courtesy: www.newagebd.net