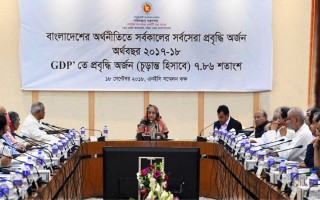 The executive committee of the National Economic Council on Tuesday approved a project for the purchase of 1.5 lakh electronic voting machines in three phases despite most political parties voicing reservations about their use in the next general elections.
The approval came at a meeting presided over by prime minister Sheikh Hasina at the Planning Commission although 35 of the 40 registered parties, including the Bangladesh Nationalist Party, opposed the use of EVMs in the next general election in electoral dialogues arranged by the Election Commission in 2017.
Planning minister AHM Mustafa Kamal at a briefing after the meeting said that the prime minister ordered the use of EVMs in urban areas because of higher literacy rate.
Referring to the prime minister, he said that EVMs should gradually be used across the country.
Election Commission placed the project to be implemented at a cost of Tk 3,825.34 crore in five years from June 2018.
Besides the purchase of the machines, 3,110 officials and employees will be given training under the project, said the project proposal.
Each EVM will cost about Tk 2 lakh and the commission may purchase the machines from Bangladesh Machine Tools Factory Ltd, an entity of the army.
The commission has purchased 190 EVMs from Machine Tools Factory at a cost of about Tk 3.66 crore and used them in different polls since 2011 excepting general elections.
The commission despite protest from election commissioner Mahbub Talukder has finalised a draft for amendment to the Representation of the People Order 1972 making provisions for the use of EVMs in general elections.
Amid criticism, prime minister Sheikh Hasina at a press conference on September 2 supported use of EVMs in the next general election on pilot basis saying that there was no reason of hurry to introduce the system.
Mustafa Kamal said that the meeting also approved 13 more projects at a cost of Tk 12,544.94 crore.
The projects include programme for supporting rural bridges, construction of railway tracks for establishing cross border rail link with India, improvement of infrastructures in Narayanganj, improvement of draining system in Khulna and first phase of Mirsari Export Processing Zone.
The government would build hundreds of bridges and culverts in districts and upazilas from in 2018-2023 at a cost of Tk 4971 crore, including Tk 3445.12 crore as loan from the World Bank.
Bangladesh railway will lay a 7 kilometre railroad including 22-metre bridge at a cost of Tk 80.17 crore from Chilahati to its border point by 2021 aiming to establish rail connectivity with India.
Both Bangladesh and India decided to establish rail link through the point at a bilateral meeting in New Delhi in 2015.
At present, there are three rail interchange point between the two neighbours.
Narayanganj City Corporation will improve infrastructures, like roads, drains, footpaths, restoration of canals, tree plantation and protection of water bodies, at a cost of Tk 461.26 crore by 2021.
Khulna City Corporation will improve drainage system along 210 kilometre pathways in the city at a cost of Tk 823 crore by 2022.
Under the first phase of Mirsari Export Processing Zone, the government would develop 1,100 acres of land, create 250 plots for industries and establish drains and road network at a cost of Tk 750 crore by 2021.
News Courtesy: www.newagebd.net