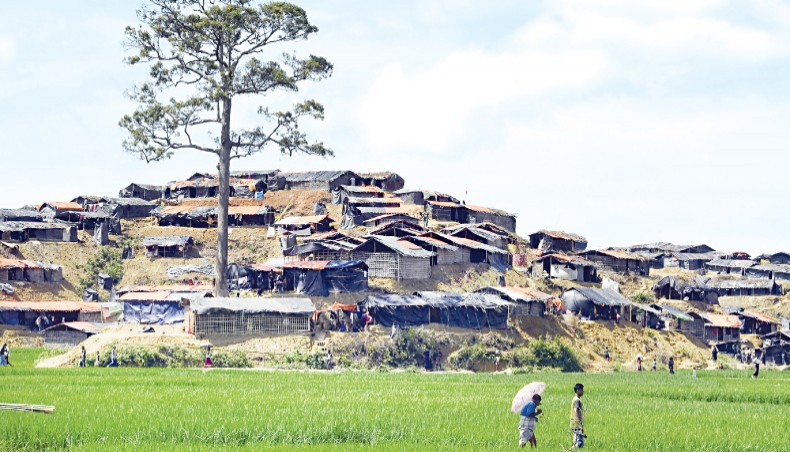 A joint study has found that 4,300 acres of hills and forests have been cut down at Ukhia and Teknaf of Cox's Bazar to make temporary facilities and cooking fuel for Rohingyas taking shelter there to flee ethnic cleansing in Myanmar since August 25, 2017.
About 3,000-4,000 acres of hill land at Teknaf and Ukhia have been cleared of vegetation, said the study conducted by United Nations Development Programme and UN Women in October-December 2017 and released min Dhaka on Tuesday.
Since the beginning of Rohingya influx in August 2017, 1502 hectare of forest land has been used for their makeshift settlements and 793 hectare of natural forest land has already been encroached, said the study.
UNDP and UN Women with the support from the environment, forests and climate change conducted the study on environmental impact of Rohingya influx in Cox's Bazar, now shelter to about 1.14 million Rohingyas.
According to the study, 14,000 hectare forests were degraded within 5km around the camps within 4-5 months and 26,000 hectare forests became forests of shrubs within 10km around the camps within 12 months of the influx.
It said that the Rohingyas needed 6,800 tonnes of firewood a month collected from forests and each family used on an average 60 culms of bamboo to build their temporary shelters.
Addressing the report launching, environment and forests minister Anisul Islam Mahmud expressed concern over rapid depletion in groundwater level for excessive extraction in camp areas and deforestation caused by collection of firewood from forests.
He underlined the need for finding out alternatives as soon as possible to protect the environmentally critical areas of Cox's Bazar.
The minister said that many big cities and even countries did not have the size of population as of
Rohingyas taking shelter in Cox's Bazar makeshift camps and it was a major challenge for the agencies concerned to manage both solid and liquid wastes there.
He said that even if the Rohigya crisis was over, its consequences on the environment and ecology would linger.
The minister expressed worries whether anyone would come up to address the environmental losses once the crisis was over.
He said water crisis in Cox's Bazar Rohingya camps might turn acute in next six months.
Anisul said that the Rohingyas should be provided with livelihoods to improve the environment in the area.
UNDP Bangladesh country director Sudipto Mukerjee said that the situation demanded immediate investments in restoring the environment and ecosystem as part of the Bangladesh's response in Cox's Bazar.
The study found thousands of shallow tube wells dug as threats to aquifers and air pollution had risen due to increased vehicular traffic and smoke from firewood burned by Rohingyas.
Due to indiscriminate hill cutting for shelters of Rohingyas, the terrain on hills has lost their natural setting, causing a potential risk of landslide, said the study.
Since the latest influx, coupled with the host community and Rohingyas from past influxes, the affected population is now 1.5 million in Cox's Bazar.
There are 1,156 species of plants and animals in the surrounding area of Cox's Bazar, also having the important habitat for Asian elephants, the report mentioned.
The report identified six physical environment and seven ecosystem impacts, including groundwater depletion, soil erosion, deforestation, shrinkage of wildlife habitat and disturbance of marine and freshwater ecosystem.
It recommended 19 mitigation measures, including alternative fuel for cooking, restoration of degraded ecosystem, management of solid waste and faecal sludge in camps and conservation of soil and revegetation of degraded hills to restore the lives in Cox's Bazar.
Since August 25, 2017, more than 7.25 lakh ethnic minority Rohingyas, fleeing violence and systemic persecution in Myanmar's Rakhine State, what the United Nations denounced as ethnic cleansing and textbook example of genocide, have taken shelter in Cox's Bazar.
They have joined an estimated 4 lakh Rohingyas from previous waves of influx fuelled by intimidation by Myanmar government and army since 1978.
Worries among local people in Cox's Bazar, meanwhile, continued growing as many of them found presence of over 1.14 million Rohingyas damaging to the environment, natural resources and tourism industry.
Spread of highly contagious disease diphtheria among the Rohingyas became a matter of grave concern for the locals as they continued coming in touch with ethnic minorities in various ways as repatriation of the Myanmar citizens was still a long way away, according to officials and local people.
The areas previously inhabited by wild elephants became barren. The lush, green, hilly landscape rapidly turned into town of tents.
According to Bangladesh officials, the new influx already took to 11.44 lakh the number of documented and undocumented Myanmar nationals in Bangladesh entering the country at times since 1978.
The number of Rohingyas at Teknaf and Ukhia upazilas became almost thrice the number of Bangladeshis there, 4.7 lakh.
The Department of Immigration and Passports completed biometric registration of 11,18,576 Rohingyas till June 2018.
Rohingyas are putting immense pressure on water and health facilities and local markets, on water sources, which would push down the ground water level further, executive director of COAST Trust Rezaul Karim Chowdhury told New Age recently.
A study on impact of Rohingya influx on the host community, done by COAST Trust, said that the adverse impacts were visible in the livelihood, agriculture, environment and water, education and health conditions of the local community.
The study, launched on August 19 in Cox's Bazar, said that at least 2,250 tonnes of firewood were burnt (150,000 families using minimum 15kg firewood daily) a day only for cooking.
The level of pollution in and around the refugee camps is alarming. Toilets are being set up anywhere and everywhere and many of them are overflowing.
Eleven canals and streams that the study team visited were found badly polluted by human waste, plastic packets, kitchen waste and other things. Entire camp area stinks of waste, including human waste.
News Courtesy: www.newagebd.net