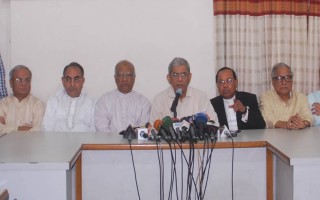 Bangladesh Nationalist Party has rejected the verdict of August 21 grenade attack case terming it a 'dictated' judgement.
Hour after delivering the verdict by the court on Wednesday, BNP secretary general Mirza Fakhrul Islam Alamgir at a news briefing at the party's central office rejected the judgment.
He said BNP thought that this verdict was 'politically' motivated and naked exposure to serve the political vendetta of the incumbent government.
BNP senior joint secretary general Ruhul Kabir Rizvi at another news briefing announced seven-day demonstration programme across the country hour after delivering the judgment of the case.
The programmes are demonstration in metropolitan cities and district headquarters across the country on Thursday, countrywide demonstration by JCD on October 13, countrywide demonstration by Juba Dal on October 14, countrywide demonstration by Swechchhasebok Dal on October 15, black flag procession at metropolitan cities including Dhaka city and district headquarters by BNP on October 16, countrywide human chain by Mahila Dal on October 17 and countrywide human chain by Sramik Dal on October 18.
News Courtesy: www.newagebd.net