A little over a week ago, a prominent Saudi journalist walked into the consulate general in Istanbul, intending to get paperwork that would allow him to marry his Turkish fiancée. She hasn't seen him since.
Since then, officials and journalists have scrambled to piece together the story of what happened to Jamal Khashoggi.
Closed-circuit television footage, flight trackers, intercepted communications and even a bone saw have served as pieces of a puzzle that has spurred a diplomatic outcry.
In the latest development, top Turkish security officials concluded that the "highest levels of the royal court" in Saudi Arabia ordered the assassination of Khashoggi, according to a senior official cited by The New York Times.
The official described the operation as "quick and complex," killing Khashoggi within two hours of his arrival at the consulate. The agents "dismembered his body with a bone saw they brought for the purpose," the official told The New York Times. "It's like Pulp Fiction," he added.
Turkish officials have said that a 15-person team flew into Saudi Arabia for the operation. Some arrived on two private planes; aviation data analyzed by CNN backs up evidence of the planes' arrival in Istanbul.
Khashoggi, a former Saudi royal court insider who became a critic of the regime, disappeared last Tuesday after entering his country's consulate in Istanbul. His case has prompted calls for investigations from the kingdom's staunchest Western allies, including the United States, where Khashoggi had applied for permanent residency.
"There's some pretty bad stories about it. I do not like it," said US President Donald Trump on Monday. Vice President Mike Pence tweeted that "the free world deserves answers," comments echoed by Secretary of State Mike Pompeo in a statement.
United Nations Secretary-General António Guterres, France and the United Kingdom have also released statements on the case, with UK Foreign Secretary Jeremy Hunt warning that the UK would "treat the incident seriously" if media reports proved correct.
People hold posters of Saudi journalist Jamal Khashoggi during a protest organized by members of the Turkish-Arabic Media Association at the entrance to the Saudi Arabia Consulate on October 5, 2018 in Istanbul.
A murder mystery?
Saudi Arabia has repeatedly denied Turkey's account of the story, saying that Khashoggi left the embassy on the same day he arrived. In a statement to CNN on Monday, Saudi Arabia's ambassador to the US, Prince Khalid bin Salman, assailed the "various malicious leaks and grim rumors" that suggest Khashoggi was killed or detained by Saudi authorities. The ambassador -- a brother of Crown Prince Mohammed bin Salman -- said the reports were "absolutely false and baseless."
Timeline of Khashoggi's disappearance
Tuesday, October 3
3:00 a.m.: One flight arrives in Istanbul from Riyadh
1:14 p.m.: Khashoggi arrives at the consulate
5:00 p.m.: Another flight arrives in Istanbul from Riyadh
6:00 p.m.: Second flight departs Istanbul for Cairo, en route to Riyadh
11:00 p.m.: First flight departs Istanbul for Riyadh
Wednesday, October 3
Turkish officials first report Khashoggi is missing
But Turkish officials have repeatedly suggested that Khashoggi has been killed. A friend of the journalist, Turan Kislakci, who is also the head of the Turkish-Arab Media Association, told CNN that Turkish officials called him and "offered their condolences and told us to be ready for a funeral."
US officials reportedly also have evidence that Saudi Arabia made plans to apprehend Khashoggi. The Washington Post -- the paper Khashoggi worked for -- citing a person familiar with the information, said US intelligence intercepted communications of Saudi officials discussing a plan to capture the journalist. The Saudis wanted to lure Khashoggi back to Saudi Arabia and lay hands on him there, according to the newspaper's source.
It was not clear whether the Saudis intended to arrest and interrogate Khashoggi or to kill him, or if the United States warned Khashoggi that he was a target, the source told The Washington Post.
Khashoggi's fiancée, Hatice Cengiz, implored Trump "to help shed light" on his disappearance in an op-ed published by The Washington Post Tuesday.
Saudi authorities have not responded to CNN's request for comment on the reports.
CCTV cameras
CCTV footage in and around the premises of the consulate have emerged as a focal point of the inquiry into Khashoggi's fate.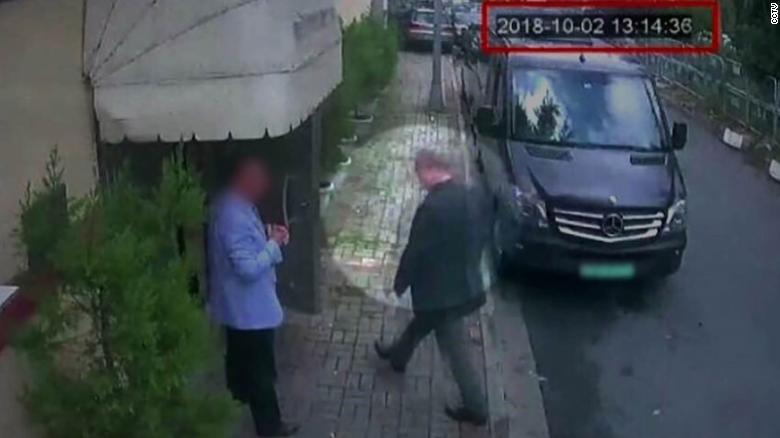 CCTV image of Khashoggi entering the Saudi consulate on October 2.
A CCTV image obtained by CNN showed the missing Saudi journalist entering the Saudi consulate on Tuesday, October 2.
Erdogan has demanded that the Saudis back up their claims by producing surveillance imagery of Khashoggi leaving the embassy.
On Tuesday, The Guardian newspaper reported that the consulate's Turkish staff were told to take a day off the day Khashoggi disappeared. It also reported that Turkish investigators believe security footage from inside the consulate was removed and taken back to Saudi Arabia on a private jet.
During a tour of the six-story consulate given to journalists on Saturday, Saudi Consul General Mohammad al-Otaibi told Reuters that while the consulate was equipped with cameras, they did not record footage of Khashoggi entering or leaving the building.
A 15-man murder squad?
Turkish officials have also said that 15 men were flown into Turkey in order to carry out the reported assassination.
The 15 Saudis, including several officials, arrived in Istanbul and visited the consulate while Khashoggi was inside, a Turkish police statement said, according to state news agency Anadolu.
Two executive jets belonging to a Riyadh-based company that does government contracting and corporate work were probably involved in ferrying the Saudis to Istanbul, according to a source familiar with the timing and route of the flights.
Flight-tracking data also backs up evidence of the planes' arrival in Istanbul.
The first flight from Riyadh arrived just after 3 a.m. local time Tuesday. The CCTV image from outside the consulate shows Khashoggi entering at 1:14 p.m.
A second flight from Riyadh landed in Istanbul at 5 p.m. It left an hour later, making a stopover in Cairo before returning to Riyadh. The first flight left Istanbul at 11:00 p.m.
On Wednesday, a Turkish newspaper, Sabah, published photos and names of the 15 men it said are the focus of the Turkish investigation.
Sabah said it "obtained photos of the mysterious intelligence team entering Turkey through Ataturk Airport." The photos alongside the names appear to have been taken from airport cameras. The Sabah report does not indicate the source of the material.
CNN has not been able to independently verify Sabah's account.
Police and intelligence searched one of the private planes before it departed Istanbul's Ataturk Airport. They also examined camera records from the day of Khashoggi's disappearance, according to Sabah.
Saudi state 'black box'
One London-based dissident said Khashoggi was targeted because of his previous status as a royal court insider making him a "black box of the Saudi state," privy to many of its secrets.
According to activists, Khashoggi is more "dangerous" to the Saudi state than the average dissident -- from clerics to women's rights activists -- targeted by the kingdom over a year-long wave of arrests.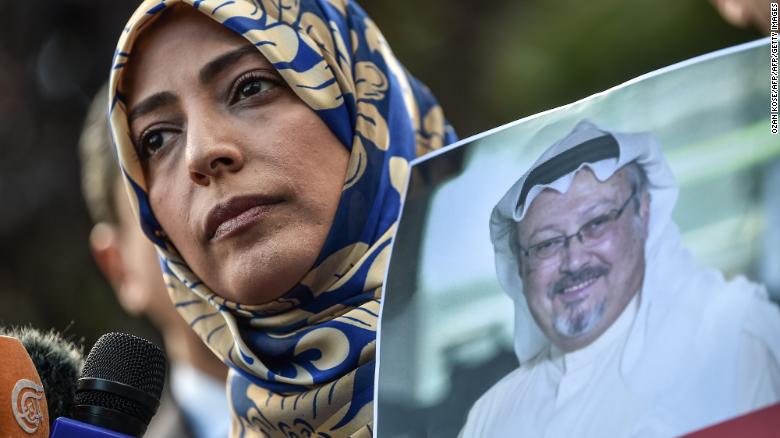 Yemeni Nobel Peace Prize laureate Yemeni Tawakkol Karman holds a picture of missing journalist Jamal Khashoggi during a demonstration in front of the Saudi Arabian consulate in Istanbul last Friday.
"He has sent a clear signal that nobody is safe," Human Rights Watch Middle East researcher Adam Coogle told CNN.
One activist familiar with the events leading up to Khashoggi's entering the consulate said Saudi officials had given the journalist assurances that it would be safe for him to enter. The Saudi consulate said "'No, don't worry about it, you're welcome here' ... So he didn't take the proper precaution," London-based activist Yahya Assiri told CNN.
"Some of his friends suggested that he go with a lawyer, or to let the Turkish police or intelligence know that he was going. He didn't notify anyone, just his fiancée and he went with her and they didn't let her in," he added.
"So he didn't take enough precaution. He had total trust in the state."
Khashoggi's international clout
Khashoggi is widely considered Crown Prince Mohammed bin Salman's most high-profile critic. The journalist went into self-imposed exile last June, just as bin Salman was being named the first in line to the throne. He has since been a frequent opinions contributor to The Washington Post, criticizing a Crown Prince who has fashioned himself as a trailblazing reformer.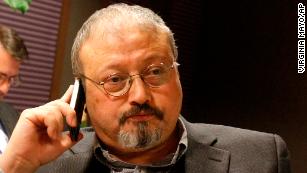 The awful disappearance of Jamal Khashoggi
Bin Salman has pushed forward a number of social reforms, such as lifting a ban on women driving, and has curtailed the powers of the country's ultraconservative religious police. He has also led a shakeup of the Saudi economy, privatizing many of its most important sectors.
But in the process, he has also ordered a far-reaching crackdown to crush dissent, arresting critics both within and outside the kingdom's borders. A so-called anticorruption purge that targeted high-profile princes and businessmen last year was seen by bin Salman's detractors as an attempt to consolidate his grip on power.
Khashoggi, a former editor-in-chief of state-aligned Al Watan newspaper, enjoyed a robust network of contacts, both domestic and foreign. He was also an adviser to former Saudi intelligence chief Prince Turki bin Faisal, and was known to have considerable access to several Saudi kings and their courts.
His insight into the workings of the Saudi state, his international stature and his frequent criticisms of bin Salman may have been seen as too potent a mixture for the Saudi leadership. But whether that would have led authorities to detain, or even kill, Jamal Khashoggi remains to be seen.
News Courtesy: www.newagebd.net