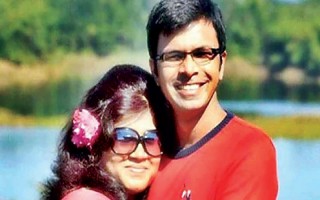 There has been no headway in investigations into the murders of journalist couple Sagar Sarwar and Meherun Runi in past seven years.
Today their colleagues and families would observe the seventh anniversary of the cold blooded double murder in the presence of their five year old son Megh in the bedroom of their rented flat at Rajarbazar.
February 11, 2012, proved to fateful for the couple and their only kid.
Sagar was then the dashing news editor of Maasranga Television and Runi --senior reporter of ATN Bangla.
Since then home ministers were changed at least thrice and the government twice but the probes seem to be marking time.
On the night of February 11 the then home minister Sahara Khatun publicly promised to bring the assailants to book within 48 hours.
But the investigators failed to identify the murderers or the motive behind the murders until now.
The deadline for submitting the probe report was extended 63 times by a metropolitan magistrate's court in the capital.
The magistrate's court in his latest time extension allowed the case investigation officer to submit probe report on February 17, said the court's general recording officer for Sher-e-Banglanagar police station sub-inspector Md Yusuf.
The murder case was initially investigated by Sher-e-Bangla Nagar police.
Later, the Detective Branch of Dhaka Metropolitan Police was assigned to do it.
Due to DB's failure to make any headway the responsibility of probes was transferred to the Rapid Action Battalion on April 18, 2012, by the High Court
Division.
The case is now under investigation by RAB's investigation and forensic wing assistant director Shahidar Rahman.
Runi's brother Nowsher Alam Roman, who filed the murder case with Sher-e-Bangla Nagar Police Station, said that the law enforcement agencies investigating into the case 'stopped contacting us.'
'We want justice,' Roman said.
When asked the fate of the investigation, RAB deputy director (legal and media wing) Raisul Azam said 'investigation is going on.'
Court officials said, eight suspects were arrested and two of them jumped bails and became fugitives.
The eight arrested suspects included Tanveer Rahman, Enam Ahmed alias Humayun Kabir, Rafiqul Islam, Bakul Mia, Mitu alias Bargira Mintu alias Masum Mintu, Kamrul Hasan Arun, Palash Rudra Paul and Abu Sayeed.
And Tanveer and Palash jumped bails and fled.
Colleagues expressed extreme disappointment over lack of progress in the probes.
Dhaka Reporters' Unity would hold protest rally today.
News Courtesy: www.newagebd.net