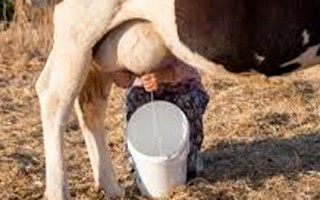 National Food Safety Laboratory of the Institute of Public Health on Sunday raised the alarm about serious microbial, chemical, residual and other contamination in raw and packaged cow milk, curd and fodder.
The laboratory published a report claiming to have detected salmonella, Escherichia coli, aflatoxin and dangerous levels of residues of deadly pesticides like endosulfan and chemicals like chromium and lead in samples tested between August and December in 2018.
Laboratory technical head Shahnila Ferdousi presented the findings at a discussion at the institute on the occasion of the laboratory's getting ISO certification.
'Everybody should be worried about what they are eating,' said Shahnila.
'It is high time that we waged war against food contamination and adulteration to prevent an impending health disaster,' she said.
The laboratory tested 190 samples — 96 raw cow milk collected from dairy firms, 31 imported and locally produced milk, 30 feed and 33 curd.
The samples were collected from 18 places of six upazilas in Dhaka, Gazipur and Narayanganj.
Presence of Escherichia Coli bacteria was found in 96 per cent of raw milk samples.
Salmonella bacteria were also found in one of the samples.
Shahnila said that the world was very careful to keep Salmonella from getting into food chain for its devastating health impacts.
About 13 per cent of raw milk samples contained microbial tetracycline residues exceeding permissible limit. About 15 per cent of raw milk had higher level of lead while 13 per cent had higher level of aflatoxin, poisonous carcinogens that cause cancer.
The World Health Organisation categorised aflatoxin as world's leading carcinogen while its role of causing liver malfunctioning was also long recognised.
Residues of deadly pesticide endosulfan, found responsible for causing death among children in Bangladesh in 2012, was found in nine raw milk samples.
About 30 per cent of local and imported packaged milk had residues of tetracycline above maximum level.
One of the samples tested positive for lead residue. Aflatoxin was also found in one of the packaged milk samples.
Up to 80 per cent of packaged milk was found contaminated with bacteria like.
Presence of lead was also detected in one of the curd samples tested.
About 51 per cent of the curd samples failed to pass microbial safety test.
Shahnila believed that fodder was largely responsible for the contaminations in tested milk samples.
The laboratory tests found 69 per cent of the fodder samples containing dangerously high Chromium.
Shahnila said that 500 micro gram of Chromium was permitted to be present in a kilogram of fodder whereas tests identified presence of Chromium up to 36,000 micro gram per kilogram.
Aflatoxin was present in 70 per cent of fodder samples, tetracycline in 71 per cent and endosulfan in two of the samples.
'Chemical contaminants will have long term impact on health and that is coming mainly from fodder sources,' said Shahnila.
She advised people to boil packaged milk properly before consumption.
She said that the rapid increase in non-communicable diseases like kidney and liver ailments might have connection to consumption of unsafe food.
In 2018, an investigation by Bangladesh Food Safety Authority revealed gaping leaks along dairy value chain causing widespread microbial contamination in pasteurised milk.
Most of the pasteurised milk samples collected by the authority failed safety test, with detection of bacteria, including E Coli, at levels higher than permissible.
The authority investigation was ordered by the High Court after an ICBBR,B research in May 218 revealed that three-fourths of pasteurised milk were unsafe for direct consumption.
The discovery came as a shock as pasteurised milk was supposed to be the safest for consumption.
The High Court ordered the authority to investigate the matter further. The authority found that cold chain was not maintained along dairy value chain at all.
It also found that plants lack hygiene standard and technical capacity for pasteurisation of milk.
The food safety authority has submitted the report to the High Court in October 2018 and was waiting for an order deciding its next course of action.
'We cannot afford to sit idle anymore,' said Shahnila.
'We need to move fast before it is too late,' she said.
News Courtesy: www.newagebd.net