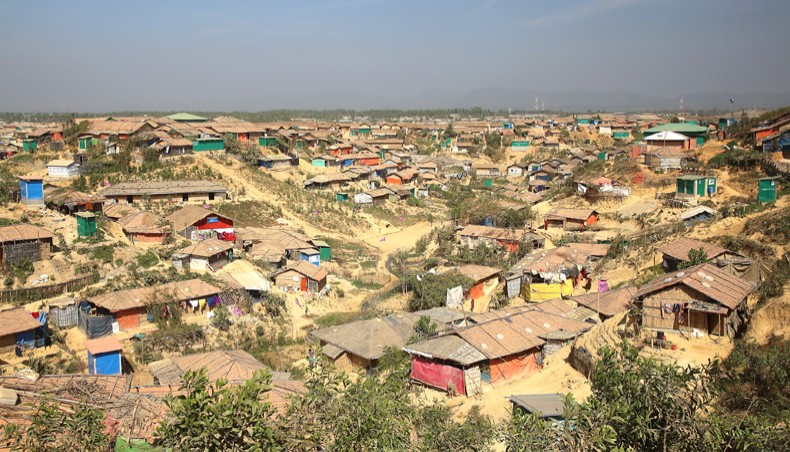 The government has ruled out United Nations' concern over Rohingya relocation to Bhasan Char, saying that accommodation of the displaced people from Myanmar staying in Cox's Bazar camps was the country's internal affair.
'It is our internal matter where we should provide accommodations for Rohingya people seeking shelter here. They [UN] could speak about humanitarian issues, if any,' said liberation war affairs minister AKM Mozammel Huq after presiding over the first meeting of the cabinet committee on law and order at the secretariat on Wednesday.
He said that the government had already taken all preparations in keeping with the directives from the prime minister to begin relocation of Rohingya people from Cox's Bazar to Bhasan Char, a solitary island in Noakhali.
On a cautionary note, the minister said that some NGOs working for Rohingya community in Cox's Bazar, have 'ill motives'.
'We have received information that NGO officials spent Tk 150 crore since September [2017] on hotel rents in Cox's Bazar. They spend only 25 per cent of the funds they receive from different agencies to assuage the miseries of Rohingyas,' he mentioned.
Mozammel said that the intelligence agencies were asked to get details of the NGOs for further actions.
A United Nations human rights investigator on Myanmar voiced urgent concern on Monday over Bangladesh's plan to relocate 23,000 Rohingyas to the remote island in April, saying that it might not be habitable, creating a potential 'new crisis,' according to a Reuters report.
'There are a number of things that remain unknown to me even following my visit, chief among them being whether the island is truly habitable,' said Yanghee Lee, UN special rapporteur on Myanmar, who visited the island in the Bay of Bengal in January.
The UN says the Muslim minority fled mass killings and rapes committed since August 2017 in subsequent army crackdowns in western Rakhine state.
'Ill-planned relocation and relocations without the consent of the refugees concerned have the potential to create a new crisis. It is incumbent on the government of Bangladesh to ensure that this is not brought about,' she told the UN Human Rights Council.
On another note, the cabinet committee reconstituted on January 16 after the government of Sheikh Hasina took over for the third consecutive term on January 7 found the country's law and order situation 'better', according to the head of the cabinet committee.
Mozammel said the cabinet committee thanked law enforcement agencies for their role during the December 30 general election.
Law minister Anisul Huq, commerce minister Tipu Munshi, home affairs minister Asaduzzaman Khan, information minister Hasan Mahmud, state minister for shipping Khalid Mahmud Chowdhury and heads of law enforcement agencies, among others, were present in the meeting.
The meeting decided to continue the ongoing drives against drug and asked the home minister to hold a meeting with members of parliament from 32 bordering districts on April 4 for all-out measures against smuggling of drugs from bordering India and Myanmar.
The government in early 2018 formed a 10-member committee headed by disaster management and relief ministry additional secretary Muhammad Mohsin to decide if Bhasan Char was suitable for Rohingya relocation.
The committee consists of five members each from the Bangladesh government and the United Nations.
In late June, Special Branch of the police in Cox's Bazar prepared a report for the Prime Minister's Office which stated that hardly 13 per cent Rohingays were willing to be relocated to Bhasan Char, while the remaining 87 per cent were willing to stay at Ukhiya and Tekhnaf in Cox's Bazar.
The report gave 10 reasons for Rohingyas not willing to be relocated at Bhasan Char, including the site's isolation, which might limit their access to medicine and other relief supplies and separate them from relatives.
Over 700,000 Rohingyas have entered Bangladesh fleeing military crackdown in northern Rakhine state of Myanmar since August 2017, taking the total number to about 1.14 million.
Bhasan Char is a one-hour boat ride from Sandwip, the nearest inhabited island, and two hours from Hatiya, one of Bangladesh's largest islands.
The relocation project scheduled to be completed this year is being implemented by the Bangladesh Navy.
News Courtesy: www.newagebd.net