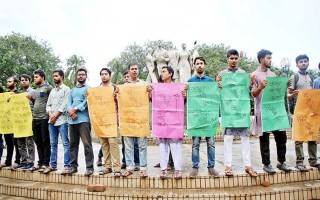 A section of Dhaka University students on Sunday demanded resignation of the vice-chancellor and business studies faculty dean as they were responsible for allowing admission of the leaders of the ruling Awami League student body Bangladesh Chhatra League dodging the intake examinations.
The unlawful admission allowed the leaders of the AL to take part at the central student union elections.
The agitating students also demanded resignation of those eight Dhaka University Central Student Union leaders who illegally admitted themselves to the university and also took part in the elections.
They made the demands from a human chain held at the base of the anti-terrorism memorial sculpture at the university on Sunday afternoon.
Students from different departments, leaders and activist of Bangladesh Students Right Protection Council, the platform that cradled quota reform movement, leaders and activists of different left student bodies also joined the human chain.
Addressing the human chain, Bangladesh Students Right Protection Council convener Hasan al Mamun said that university vice-chancellor professor Akhtaruzzaman and business studies faculty dean professor Shibli Rubayat Ul Islam illegally admitted thirty four Chhatra League leaders so that they could participate in the DUCSU polls.
Demanding resignation of professor Akhtaruzzaman and professor Shibli Rubayat Ul Islam, Mamun also said that the posts should all be vacated for re-election.
Socialist Students Front fraction's DU chapter president Salman Siddique alleged that the elections were marred by fraud, irregularities and rigging and now the allegation of further fraudulence surfaced.
He also demanded resignation of the VC and others involved in this admission scam and re-election to the central student union.
Meanwhile, Progressive Students' Alliance, a platform of left student wings, also brought out a torch procession to press for the same demand on Sunday evening.
According to the allegation, DUCSU leaders Arif Ibne Ali, science and technology affairs secretary, Saad bin Kader, liberation war affairs secretary, Shakil Ahmed Tanvir, sports secretary and members Nazrul Islam, Rakibul Hasan, Nipu Islam Tonni, and Mahmudul Hasan and twenty Six other belonging Chhatra League were allowed admission to the banking and insurance department at master's level without any admission test. They were allowed to dodge the intake examinations following recommendations from the VC and Business Faculty dean.
DUCSU elections, held during early March 11, after 28 years, ended in a boycott by all major panels, save for the BCL, over allegations of irregularities and vote rigging.
Most participating panels exploded in protests even before the voting ended and demanded immediate re-election.
Asked to comment on the issue, VC Akhtaruzzaman said that the concerned departments were asked to look into the allegation of irregularities during admission to the evening courses.
He said that there was no scope for admission without exams in the regular courses.
News Courtesy: www.newagebd.net