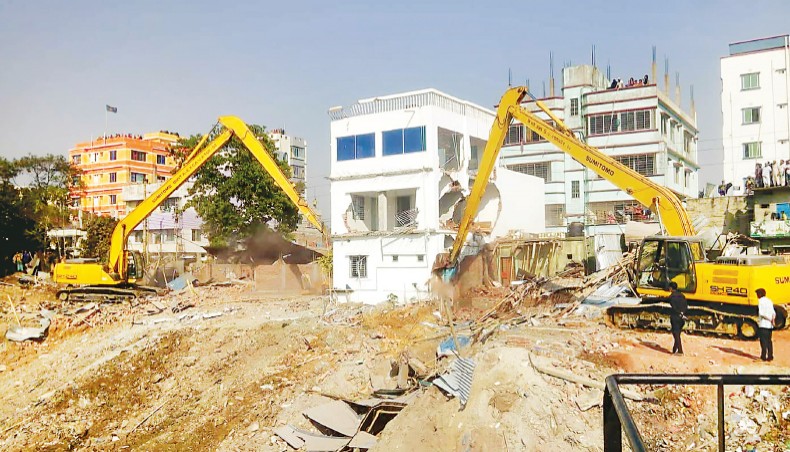 The Dhaka district administration found no encroachers on the five of the eight rivers flowing through or around the district.
The list of grabbers sent to the National River Conservation Commission on Wednesday by the district administration states that no part of the River Turag had been illegally occupied.
It also did not mention whether any part of the rivers Balu, Shitalakkhya, Dhaleswhari and Padma were grabbed or needed eviction drives to save them in the past.
Of the 959 grabbers of rivers, canals, beels, ponds and other water bodies in Dhaka identified by the district administration, only a handful were shown as encroaching on the River Buriganga and the Ichhamati and a few hundred were mentioned occupying the River Bangshi.
It identified Bangladesh Inland Water Transport Authority as a grabber, which had recently evicted over 5,000 grabbers from the four Dhaka rivers between January and June, illegally occupying a Buriganga channel for developing an eco-park at Shyampur.
Mack Enterprises, Chan Textile Mills Limited and several unidentified individuals also occupied the Buriganga banks at that point, according to the report sent to the Dhaka deputy commissioner office by Motijheel Revenue Circle's assistant commissioner.
The 134 grabbers of the land of the River Bangshi as identified by the AC (land) Savar include Savar Thana Muktijoddha Unyayan Bahumukhi Samabay Samity, Savar Bazar Byaboshayi Kalyan Samity, Pathalia union parishad chairman's office, River View Park, Jisan City Composite Ltd (Hallmark), Raj Real Estate Ltd, Padma Ceramics, Luna Enterprise (Hallmark), Square Land Limited owned by Square Pharma.
Land along the river under Dhamrai has been grabbed by 436 individuals. The Dhamrai AC (land) also sent names of 79 individuals who illegally took possession of pond and canal land.
Land of the River Ichhamati had been grabbed by 92 individuals, two cremation grounds, Holy Cross School, according to the Nababganj AC (land).
The Dhaka South City Corporation, Bashundhara Residential Area, Mohammadi Housing and Rajdhani Udyan Nabinagar Housing were identified as grabbers of eight canals.
The remaining 300 plus grabbers, mostly individuals and organisations, developed shanties, shops, markets, offices and religious establishments by grabbing canals, ponds and beels of the Dhaka district, according to the report.
Greens term the list incomplete and a testimony of inefficiency and corruption among the government officials concerned and said it hid the names of grabbers of the rivers, canals and other water bodies.
'This list does not surprise me at all. Instead, it reaffirms our allegation that the main players behind grabbing of rivers are the respective DC offices,' Bangladesh Environmental Lawyers Association chief executive Syeda Rizwana Hasan told New Age.
Over 19,101 acres of flood-flow zones, 1,924 acres of water retention areas and 1,491 acres of Dhaka's rivers, canals and ponds were filled during these nine years since Dhaka's Detailed Area Plan came into effect in 2010, reveals a satellite image study done by the Bangladesh Institute of Planners general secretary professor Adil Mohammad Khan.
Following a request by the River Commission on February 4, the Dhaka DC office in March ordered the assistant commissioners of 18 revenue circles for sending lists of those who grabbed land belonging to rivers, canals, ponds and beels in their respective areas within a month.
The commission gave the assignment to the country's 64 deputy commissioners including the Dhaka DC following a High Court order, passed on February 3, asking the commission to make a list of the grabbers of rivers, canals and other water bodies and to make them public.
Following several requests, 15 of the 18 revenue circles sent lists of grabbers on different period of time to the DC, records show.
No report of grabbers came in from Tejgaon, Ramna and Lalbagh circles while the AC Land Demra claimed that he found no grabber of any water body in his jurisdiction.
The Dhaka South City Corporation has illegally developed a bazar and a gymnasium on portions of the Dholai Khal that still flows through RM Das Road and Tanuganj Natun Rasta area in Old Dhaka after the conversion of its major portion into a box-culvert in the 1980s by the then undivided Dhaka City Corporation, according to the Kotwali Revenue Circle's report sent to the DC office in September.
Several buildings, garages, workshops, community centres have been developed on the canal by 95 other grabbers, according to the report.
Gulshan AC (land) SM Mosharraf Hossain's report states that Bashundhara Housing Company Limited grabbed 13.21 acres of land and completely blocked the flow of five canals named Hawtar Talna Khal, Delna Khal, Dumni-Kathaldia Khal, Joar Sahara-Kathal Dia Khal, Bhatara-Kathaldia Khal.
He did not mention names of other grabbers of the River Balu and canals in the area though several other housing companies such as Amin Mohammad Group, Pink City and several other developers grabbed canals in the Beraid area, said Rajdahani Unnyayan Kartripakkhya's development control official.
AC (land) Dhanmondi states that Nabinagar Housing grabbed 16.21 acres of land of Ramchandrapur Khal in Mohammadpur and its sister concern Mohammadi Housing at Katasur in Mohammadpur grabbed 15.37 acres of land of three canals while Rajdhani Udyan grabbed 2.72 acres land of another canal.
Amin Bazar AC land identifies BRAC University, Uttara Besarkari School, Hijla Baro Jame Masjid, Haji Amman Jame Msjid, Baitul Ham Jame Masjid, Mohonpur Jame Masjid and several individuals as grabber of canals, ponds and water bodies without mentioning the names of the water bodies occupied.
For construction of Dhaka-Dohar road via Srinagar, many canals connected to the Padma were killed, states the report prepared by AC (land) Dohar.
Keraniganj Revenue South AC land report states that Shuvadda Khal has been grabbed by 26 individuals. Keraniganj Circle found no encroacher on the River Buriganga.
It does not even mention names of 33 dockyards developed over the years choking the Buriganga at Mirer Bagh, which were given one year time in June by the shipping ministry to leave the place for making the river free from encroachment and pollution.
Cantonment Revenue Circle's M Rifat Ferdaus' report states that they found no encroacher on the Turag River, Abdullahpur Khal, Bailjuri Khal, Kathal Diya Khal and Mosaid Khal. It found seven grabbers of Faydabad Khal, just two grabbers of Ibrahimpur Khal.
He did not even mention names of the grabbers of about seven acres of land of Barua Khal.
AC (land) Ashulia sent three grabbers of Nalir Khal and eight encroachers of Nayan Juli Khal out of 11 canals in the area. He did not say anything about Turag River encroachment.
The list of river grabbers should have crossed 50 thousand if it was made sincerely visiting eight rivers, 131 canals and unknown number of ponds and beels, Bangladesh Paribesh Andolan joint secretary Sharif Jamil said.
Bashundhara's media head Abu Tayeb claimed the list of grabbers prepared by the DC office was biased and did not reflect reality. 'We developed our project on the purchased land have all valid documents to prove this,' he said.
BIWTA chairman commodore M Mahbub-ul-Islam and DSCC secretary M Mostafa Kamal Majumder said they would comment only after going through the report.
ADC (revenue) Dhaka Abul Fate Mohammad Shafiqul Islam said he would keep on pursuing the assistant commissioners for updating the list.
National River Conservation Commission chairman Muzibur Rahman Howlader even termed it as a positive sign claiming it already got lists of 46,742 grabbers of water bodies from 61 districts.
'The process of making the complete list would continue and all the grabbers will be evicted,' he said.
News Courtesy: www.newagebd.net