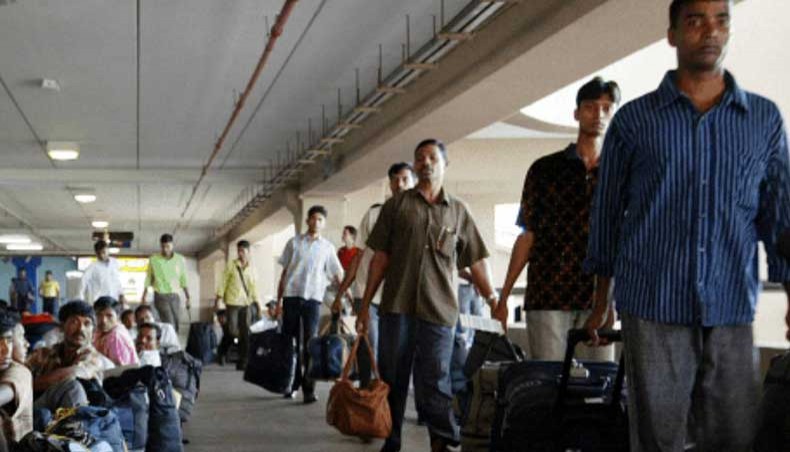 Thousands of undocumented Bangladeshi workers are facing multiple problems in Malaysia as the amnesty for them ends on December 31.
Many of them might be unwilling to come back having spent huge sums to migrate to Malaysia.
Many of them became undocumented as victims of trafficking and irregular migration.
And an unspecified number of undocumented workers of Bangladesh are compelled to stand in long queues to collect their travel permits and immigration clearances, said Bangladeshis in Kuala Lumpur.
As the amnesty would end after two weeks many of the undocumented workers would not be able to return home within the deadline, they said.
The poor workers would not be able to purchase air tickets, they said, adding that many employers were forcing the undocumented to stay back to exploit them though the undocumented workers might be arrested during the crackdown after the amnesty ends, they said.
Since August 1, nearly 40,000 undocumented Bangladeshi workers came back from Malaysia under its Back For Good Programme.
Malaysia based CARAM Asia's former coordinator and labour migration expert Harun-ur Rashid told New Age that the Bangladesh government should immediately provide more flights to bring back the undocumented Bangladeshi workers under the amnesty.
After the deadline ends, the government of Bangladesh and other civil society organizations should advocate to legalize the rest of the workers, he said.
Harun suggested the government of Bangladesh to stop the avenues of illegal migration to Malaysia.
There is no specific statistics of undocumented workers of Bangladesh in Malaysia.
Malaysia is the fourth largest destination of Bangladeshi workers after Saudi Arabia, UAE And Oman, according to Bureau of Manpower, Employment and Training.
Large number of Bangladeshi workers migrated to Malaysia through legal and illegal channels due to favorable weathers and working atmosphere.
The number of returnees would be increasing day by day as the deadline of the amnesty ends on December 31, said officials in Dhaka and Kuala Lumpur.
Bangladesh labour counselor in Malaysia Zahirul Islam told New Age on Saturday that Biman arranged 16 extra flights to bring the workers back to Bangladesh.
Besides, he said, the expatriates welfare and overseas employment ministry was providing cash incentive of Tk 10,000 each returnee to purchase his or her air ticket.
Biman set the one-way economic fare from Kuala Lumpur to Dhaka at Malaysian Ringgit 1,298 without luggage and 1,744 Ringgit with luggage.
For each business class ticket, Biman fixed the fare at 2,921 Ringgit with luggage and 2,444 Ringgit without luggage, said officials.
The Bangladeshi workers were returning from Malaysia under the B4G Amnesty.
The one-way air fare from Kuala Lumpur to Dhaka increased more than six times due to the crisis, said officials.
To return to Bangladesh under the B4G Programme, an applicant needs to have valid travel documents, confirmed air tickets and RM 700 to pay various fees.
The applicants coming to the mission for the travel permit are provided with it immediately but many of them are trying in vain to buy air tickets due to shortage of flights.
On Saturday, Malaysian national news agency Bernama reported that 1,38,901 illegal immigrants returned to their countries voluntarily under the B4G Programme.
Malaysian Immigration Department director-general Khairul Dzaimee Daud said of the 138,901, Indonesians were the highest with 53,328 illegal immigrants, followed by those from Bangladesh (38,734), India (22,964), Myanmar (6,923), while the rest were from other countries. 'We expect the total number to increase every day until the end of the month. The Malaysia Immigration Department has also extended its operating hours until 10:00pm, and our offices nationwide are opened during the weekend,' he told reporters.
Khairul Dzaimee said the sharp increase in those enlisting with the programme was due to the attitude of people waiting till the last minute to apply and hoping that the programme would be extended.
'A decision was made by the government that the B4G programme will not be extended and will end on December 31. After that, the department will conduct a massive detention operation,' he explained.
The B4G programme implemented in Peninsular Malaysia until December 31 is aimed at giving illegal immigrants who have committed offences under the Immigration Act 1959/63, the chance to return to their countries of origin according to stipulated requirements.
The illegal immigrants only need to obtain complete identification documents from their respective embassy or high commissions before handing them over to the Immigration Office for processing.
Also, they need to pay a compound fine of RM700 and show valid flight tickets for them to return to their countries of origin.
News Courtesy: www.newagebd.net