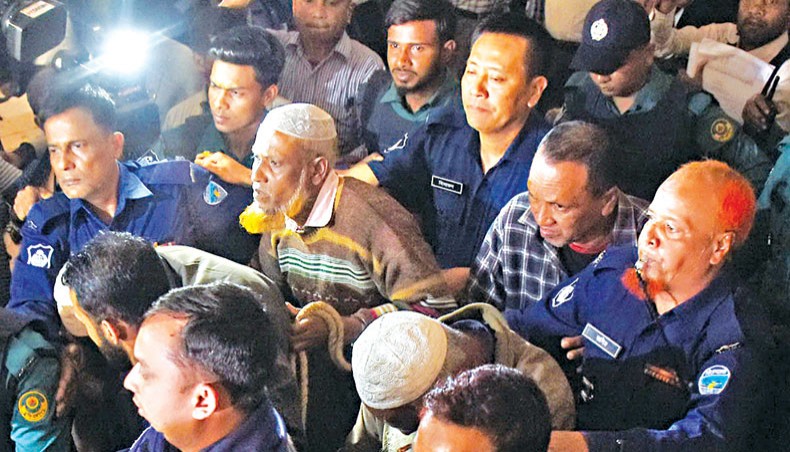 A Chattogram court has sentenced five former police officials to death in the case filed over the massacre of 24 people who attended Awami League chief Sheikh Hasina's rally in the port city in 1988, during the regime of army dictator HM Ershad.
The convicted are then police inspector JC Mondal and constables Mostafizur Rahman, Pradip Barua, Shah Md Abdullah and Mamtaj Uddin.
Chattogram Division Special Court's acting Judge Md Ismail Hossain handed down the verdict on Monday afternoon, 32 years after the massacre.
Mostafizur, Pradip, Abdullah and Mamtaj were present at the court while JC Mondal, former patrol inspector of Chattogram Kotwali Police Station, was absconding, said public prosecutor Mesbah Uddin Chowdhury.
The four convicted present were earlier on bail. On January 19, the court rejected their bail and sent them to the jail.
Then Chattogram Metropolitan Police commissioner Mirza Raqibul Huda and constables Abdus Salam and Bashir Uddin, who were also accused in the charge sheet, died while the case was under way.
PP Mesbah said that 53 witnesses testified in the case. They included former minister, journalists and teachers.
According to the case documents, on January 24, 1988 during the Ershad regime, police opened fire on a procession of the then AL-led alliance near the Laldighi Maidan, its scheduled public meeting venue, killing at least 24 people and injuring over 200 others.
When the procession with a truck carrying AL president Sheikh Hasina reached the old Bangladesh Bank area, police started charging batons and shooting, the prosecution said.
The truck's helper, Abdul Mannan, was shot dead on the spot, the prosecution added.
The 23 other deceased were Md Hasan Murad, Mohiuddin Shamim, Swapan Kumar Biswas, Gomez Kishor, Swapan Chowdhury, Ajit Sarkar, Romesh Baidda, Bodrul Alam, DK Chowdhury, Sazzad Hossain, Sobuj Hossain, Kamal Hossain, BK Das, Pankaj Baidda, Bahar Uddin, Chand Mia, Samar Dutta, Hashem Mia, Md Kashem, Palash Dutta, Abdul Kuddus, Gobinda Das and Shahadat.
After the fall of army dictator Ershad, lawyer Md Shahidul Huda filed a case with a Chattogram court in this connection on March 5, 1992.
After the AL was voted to power in 1996, a Chattogram court ordered the Criminal Investigation Department of the police to investigate the case.
On May 14, 1998, the police submitted a charge sheet against 47 people.
Later, the court directed the Criminal Investigation Department to make further investigation for the case.
On October 14, 1999, CID assistant superintendent of police Abdul Kader Khan submitted a supplementary charge sheet accusing eight people: then CMP commissioner Mirza Raqibul Huda, police inspector JC Mondal, constables Abdus Salam, Mostafizur Rahman, Pradip Barua, Bashir Uddin, Shah Md Abdullah and Mamtaj Uddin.
Of them, Raqibul, Bashir and Salam died while the case was under way.
Their trial ended on January 14.
News Courtesy: www.newagebd.net