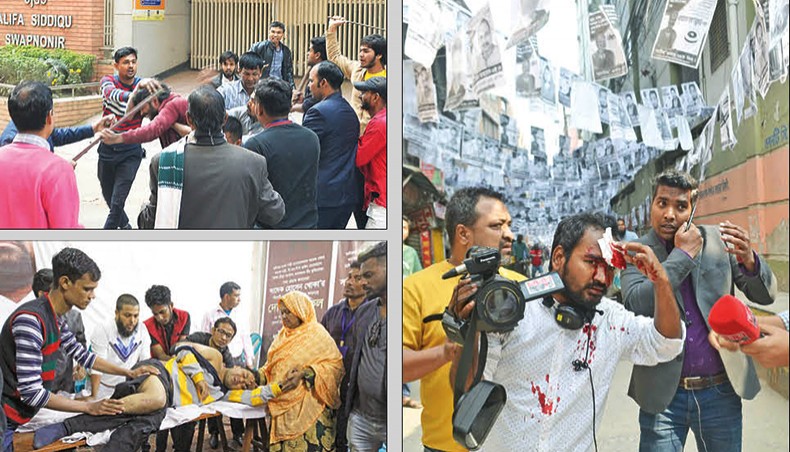 Attacks on opposition Bangladesh Nationalist Party candidates and their campaigns for the upcoming elections to the two Dhaka cities and violations of the electoral code of conduct continue as the Election Commission failed to take any visible steps after earlier attacks and violations.
On Sunday, the election campaign of Dhaka South City BNP mayoral candidate Ishraque Hossain came under attack allegedly by ruling Awami League activists on RK Mission Road in Gopibagh area of Old Dhaka.
Besides, activists of AL-backed ward 38 councillor candidate Imtiaz Ahmed Mannafi attacked activists of BNP-backed councillor candidate Meherun Nesa on Bangram Jukinagar Lane of Wari in Old Dhaka on Sunday afternoon leaving three BNP activists injured.
The BNP south city mayoral candidate's campaign was attacked five days after the BNP's mayoral candidate for Dhaka north city Tabith Awal and his campaigners came under attack on January 21.
Sushashoner Jonno Nagorik secretary Badiul Alam Majumder told New Age that the lack of EC action prompted the recurrence of such incidents of violence and violation of electoral code of conduct.
He said that no authority was willing to take steps against the offenders to avoid pressure from the government and that the outcome of such attitude of the authorities concerned would be dangerous.
Many candidates are holding rallies blocking roads and they are using public announcement system before 2:00pm and after 8:00pm while the rule allows the use of PA system six hours since2:00pm to 8:00pm.
Many councillor candidates in their posters wrote that they were nominated by a political party while it was prohibited by the rule.
The candidates also used colourful campaign materials in their electioneering breaching the polls code.
EC secretary M Alamgir, addressing a press conference at his office on Sunday, said that the rules of the polls code needed to be amended as the code was not maintainable in the 'present democratic situation', which was enacted during an army-backed caretaker regime.
He said that it was not possible to stop rallies and processions as it was quite natural that supporters and activists would come to the road when the candidates are moving.
He said that roads got easily blocked as they were narrow in the densely populated city.
The EC secretary also said that the commission asked the returning officers concerned to take necessary steps over the Gopibagh incident after investigation.
Clockwise from top left, Dhaka south city's BNP mayoral candidate Ishraque Hossain at Motijheel, Awami League candidate Sheikh Fazle Noor Taposh at Basabo, and Dhaka north city's BNP candidate Tabith Awal at Mohakhali, and AL candidate Atiqul Islam at Mirpur conduct electioneering on Sunday. — New Age photo
On Sunday, activists of the AL and the BNP were locked in a clash while Dhaka South City BNP mayoral candidate Ishraque Hossain's election campaign came under attack on RK Mission Road of Gopibagh area of Old Dhaka Sunday afternoon, leaving several people, including journalists, injured.
The BNP claimed that at least eight of their activists and three journalists were injured in the attack while the AL claimed that 15 of their activists were injured in the incident.
The injured included Naya Diganta journalist Iqbal Majumder Touhid, Somoy Television cameraperson Ashraful Islam and Bangla Vision senior cameraperson Uzzwal Das.
Witnesses said that mayoral candidate Ishraque began his day's campaign from Old Dhaka's Tikatuli and when he was returning towards his Gopibagh residence along with party leaders and activists and the journalists covering his election campaign, BNP and AL activists got locked in an altercation near Central Women's College at about 1:00pm.
As AL activists, armed with bamboos and sticks, in no time attacked the BNP activists while they were leaving the place and began to throw bricks bats on them. The BNP activists too retaliated by throwing brick bats and sticks.
Both the groups also chased each other and the clash continued for about 20 minutes when the police arrived at the scene and brought the situation under control.
BNP leaders and activists, at the time, surrounded their mayoral candidate so that he would not be hurt, they said.
They said that they could hear sounds of several gunshots at the time.
Witnesses said that the AL activists who were staying at the election camp of AL-backed ward 39 councilor candidate Rokon Uddin Ahmed first attacked BNP activists.
Immediately after the attack, Ishraque in a press conference at the election office of his Gopibagh home condemned the attack, termed it cowardice and said that the AL was frightened by the mass wave in favour of sheaf of paddy.
He alleged that the local AL councilor candidate's men attacked their peaceful procession.
Terming the attack as part of keeping the voters in a terrified state and of foiling the election, he urged the voters to give a befitting reply to the attack by voting for the BNP candidates to realise their rights.
At least eight BNP activists and three journalists were injured in the attack, he said, alleging that AL men opened several rounds of gunshots while they had been leaving the area.
Ishraque urged his activists to remain calm.
He said that he would make an allegation to the Election Commission and lodge a case with the local police station in this connection.
AL-backed ward 39 councilor candidate Rokon Uddin Ahmed denied the allegation and claimed that the BNP men with their procession had attacked his election camp and he sent 15 of his injured activists to the Dhaka Medical College Hospital for treatment.
DMCH police outpost in-charge inspector Bachchu Mia said that six injured ones, five of them reportedly AL activists, received first aid at the hospital.
Dhaka south city AL mayoral candidate Sheikh Fazle Noor Taposh, while talking to reporters at his election campaign in Sabujbagh, also alleged that BNP activists attacked AL activists in presence of the BNP mayoral candidate.
'I heard that the gunshot was fired from the BNP candidate's firearm,' he said.
Wari police station inspector (investigation) Mustafizur Rahman, however, said that the AL and BNP activists had chased and counter-chased each others and that the untoward incident could have been avoided if they were informed about the campaign earlier.
He said that no case was lodged until 9:00pm.
On January 21, BNP south city mayoral candidate Tabith's campaign was attacked at Gabtali by a group of people allegedly led by Awami League's ward 9 councillor candidate Mujib Sarwar Masum, leaving at least 15, including Tabith, injured.
After Tabith's complaint to the Election Commission after the attack on him, it directed the police and one of its executive magistrates to probe the incident and it received the reports on January 23.
The probe report by executive magistrate Imran Shahriyar said that the allegation brought by Tabith was related to criminal offence, which was not under the jurisdiction of mobile court.
He was of the opinion that necessary action could be taken after a thorough investigation.
The probe report by the Darus Salam police said that the incident was nothing but pushes and shoves by one another, which was negligible by nature.
It said that the incident occurred as the two processions came face to
face as they had been campaigning without informing police.
On January 22, two BNP-backed councillor candidates and 20 others were injured asAL leaders and activists swooped on them at Shahjadpur and Dakkhinkhan.
On January 13, at least 10 people, including BNP-backed Dhaka north ward 18 councillor candidate Sharif Uddin Jewel, were injured in an attack at an election office at Shahjadpur.
The attack took place soon after BNP's north mayoral contestant Tabith Awal inaugurated the office of the party's councillor candidate there.
News Courtesy: www.newagebd.net