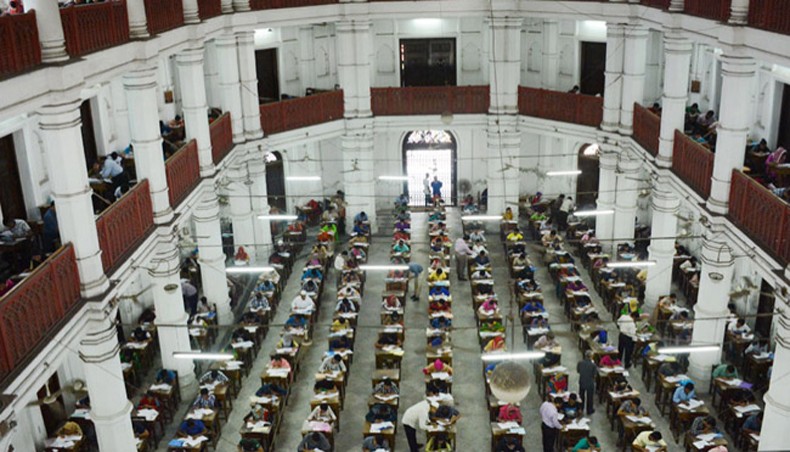 Evening courses in different public universities continue to run defying the University Grants Commission instructions to the vice-chancellors of all 46 public universities to put a stop to such courses.
Senior educationists said that these courses were not acceptable at all as the trend only commercialised the education in the universities.
They also said that evening courses are one of the primary reasons for the decline of academic excellence and they hampered the education of the regular students.
The commission should take stern action to stop these courses while public opinion was also against these courses, they added.
Earlier on December 11, 2019 in a 13-point instruction, UGC said that public universities should stop running evening courses.
The move came two days after president M Abdul Hamid, in his address at the 52nd convocation of Dhaka University on December 9, said that a section of teachers turned public universities into business ventures disrupting their overall academic environment.
President Hamid, also the chancellor of public universities, asked the vice-chancellors and teachers of the universities to ensure proper use of the funds allocated to the institutions in an honest manner.
'These commercialised courses are not acceptable at all,' said Dhaka University emeritus professor Serajul Islam Choudhury.
He said that the universities could take evening classes for their own special and diploma courses for people like job holders and women who did not have the opportunity to complete education earlier.
'The way the university authorities currently taking the courses solely for commercial benefit, it does not seem right at all,' he said.
'UGC has to act properly to pressurise the university authorities to stop these courses and it will be easy as public opinion is against these courses,' Serajul Islam Choudhury added.
Professor Mohammad Kaykobad of computer science and engineering department of the Bangladesh University of Engineering and Technology said that academic excellence of the universities first started to decline when the number of students increased.
He further explained that in Bangladesh, the education sector did not get enough attention which also gets low budget allocation.
UGC should be strengthened to implement the instructions and different decisions, he suggested.
On Wednesday, prime minister Sheikh Hasina said at parliament that there was no need for enacting a law to stop evening courses at public universities as the university authorities and UGC were capable enough to decide on the issue.
She also said that as per a statistics it was found that many teachers of public universities showed more sincerity in taking classes at private universities than at their own universities.
The crisis deepened as undergraduate, post-graduate, certificate, diploma and other professional courses in the evening at public universities is on the rise.
Evening courses at Dhaka University, Jahangirnagar University, Rajshahi University, Chittagong University, Islamic University and other universities offer courses in business administration, English, development studies, population science, criminology, health economics and other disciplines that are in good demand.
In such courses, the universities charge tuition fees many times higher compared to the regular ones offered by them and the fees also vary between Tk 1.5 lakh and Tk 2.85 lakh while the regular courses cost only Tk 5 thousand each, students said.
The DU academic council first approved evening master's courses at its business faculty in October 2001, and subsequently many other public universities offered several hundreds of certificate, diploma, undergraduate and post-graduate courses in various disciplines, UGC officials said.
Students also alleged that influential student leaders resorted to various kinds of irregularities during admission to these courses so that they could continue their identity as students even after finishing their studies, which is especially true for DU.
On February 9, a committee formed by DU authorities to consider the rationality of the evening courses in the university submitted its report to the VC, said the committee convener and dean of science faculty professor Tofail Ahmed Chowdhury on Wednesday.
On December 12, 2019 Jagannath University and Comilla University authorities decided to stop operating evening programmes at their respective universities and stop enrolling fresh students for the evening pogrammes until next instructions.
On December 24, Rajshahi University formed an 11-member committee to consider whether the university would continue its evening courses.
UGC chairman professor Kazi Shahidullah told New Age on Wednesday that a committee already submitted a report to the DU authorities on the evening courses.
'As DU is the pioneer university in the country, if they choose to stop the evening courses, then I believe, all universities will follow suit,' he said.
The professor said that it was not possible to give any timeline as to when their instructions would be fully followed.
'We (the commission) can only give pressure or recommend to the universities and I don't have any more power than that,' he said and added that he believed that they would not have to create pressure on the universities to implement UGC instructions.
DU vice chancellor professor Md Akhtaruzzaman said that they had formed the rationality committee in 2019 which submitted recommendations recently.
He did not make any comment on the recommendations and added that at the academic committee meeting decision would be taken on the recommendations.
UGC's 13-point instruction also requested the public university authorities to take permission from the commission while opening new faculties, departments, programmes or institutes.
News Courtesy: www.newagebd.net