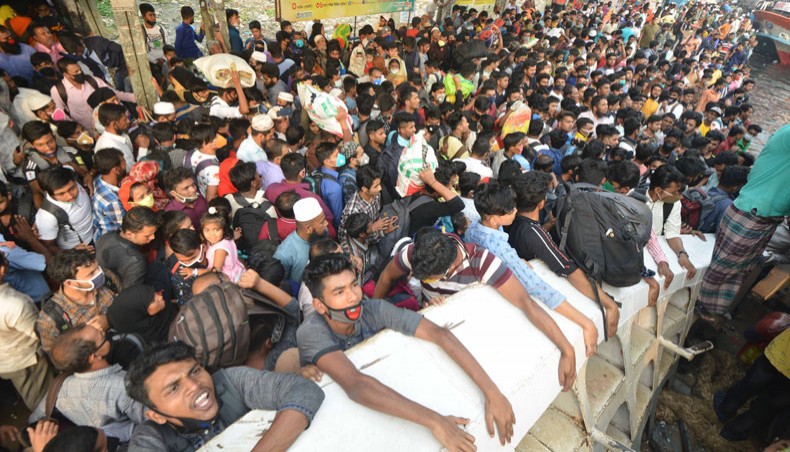 The authorities on Tuesday closed all public transport services on railways, waterways and domestic airways in the country while thousands of people overcrowded the terminals in the capital as the government on Monday announced a 10-day public holiday from March 26 to April 4.
Movement of passenger trains, launches and domestic flights would remain suspended until further notice to check the spread of COVID-19 that has already killed four and infected 39 people in the country.
Road transport and bridges ministry is also going to impose a 10-day ban on movement of all public transports on roads from tomorrow.
All goods carrying vehicles on roads, railways and waterways would remain outside the purview of the bans.
Soon after the government declared holiday for government and non-government organisations on Monday, thousands of people started to leave Dhaka since Monday night which turned into a mad rush on Tuesday.
Different trains and launches were crammed with passengers while no special measures were taken to tackle such rush at these terminals and for following health directives to avoid coronavirus infection.
Bus passengers suffered more due to extra fares charged by bus owners plying different routes and many of them forced to get on goods carrying vehicles risking their lives.
Earlier on Tuesday morning the railways ministry stopped movement of all 257 local, commuter and mail trains in the country.
In the afternoon at a press conference held at the Rail Bhaban the railways minister Nurul Islam Sujan said that services of 102 intercity trains would be closed from Tuesday evening until further notice.
'If any train starts from Panchagarh to Dhaka today it will complete its journey after reaching Panchagarh again,' he said and added that in that way movement of trains would stop completely by this morning.
The decision to suspend public transports was taken by the Prime Minister's Office in a meeting following the prevailing situation, he said, adding that around 20 freight trains would continue their services across the country.
Replying to a question Nurul Islam claimed that railway staff had followed the health ministry instructions at the stations after the outbreak of the virus as much as possible.
During the closure all officials would be present at the Rail Bhaban ready to provide any special and urgent service, he added.
Road transport and bridges minister Obaidul Quader on Tuesday, in a video message from the secretariat, announced that the government had taken a decision to shut down all public transports on roads from March 26 to April 4 to combat the spread of the coronavirus infection.
He said that trucks, covered vans, vehicles carrying medicine and fuels and all other goods carrying vehicles would remain outside the purview of the ban and reminded the drivers of goods carrying vehicles not to carry passengers.
Bangladesh Inland Water Transport Authority on the day announced by issuing a press release that movement of all water transports would remain close until further notice.
Shipping ministry senior public relations officer Md Jahangir Alan Khan said that goods-laden vessels would be outside the purview of the ban.
Senior secretary to civil aviation and tourism ministry Md Mohibul Haque told New Age that flights on all domestic routes across Bangladesh would remain suspended from Tuesday midnight until further notice.
The government on Monday declared the public holidays for between March 26 and April 4 for maintaining social isolation which the experts suggested to prevent the coronavirus spread which infected 39 people and caused four deaths in Bangladesh till Tuesday.
'The public holiday was not declared for celebration but to stay at home,' said Ahmad Kaikaus, principal secretary to the Prime Minister's Office at a press briefing on Tuesday and requested the employees to stay at home to prevent coronavirus.
The mad rush to leave the city began after the announcements from different ministries and thousands of people were seen at all railway, waterway and bus terminals in the capital.
A number of homebound people said that they were going to their ancestral homes as they felt Dhaka was more vulnerable to the spread of the virus compared with their village homes while others said that since they were given a long vacation they would like to spend it with their families.
World Health Organisation former regional adviser Muzaherul Huq said that the coronavirus transmission risk increased due to movement of huge people from city to villages and other cities.
In a statement, Passenger Welfare Association of Bangladesh secretary general Mozammel Haque Chowdhury said that people were going to their ancestral homes by crowding different transports in the last few days which only increased the chance of spreading the infection.
The government decision of not shutting down all public transports on the same day of announcement of the 10-day public holiday proved to be suicidal following these scenarios, he added.
Since Monday night a huge number of people rushed to the capital's stations to leave Dhaka which continued till Tuesday, said Bangladesh Railway director general Md Shamsuzzaman.
He also said that the pressure of people leaving Dhaka was such it seemed as if almost half the passengers seen during Eid festivals were the stations.
People were seen standing too close to one another at ticket counters and it was more congested inside the trains.
Following the notice the launch services were closed down in the afternoon while launches were seen leaving Dhaka in overcrowded conditions.
New Age correspondent in Manikganj reported that Bangladesh Inland Water Transport Corporation limited the ferry services on Paturia-Daulatdia water route after Tuesday noon till further notice.
The corporation's Aricha office manager Zillur Rahman said that only one or two ferries would continue to provide service only for goods-laden vehicles.
Our correspondent in Munshiganj reported that since afternoon hundreds of people gathered at Mawa ghat to go to Kaorakandi ghat and the crowd swelled to several thousands in the evening.
Meanwhile a good number of people with masks and gloves were seen at Dhaka's Gabtoli inter-district bus terminal and at Kalyanpur bus stand.
Taking advantage of the situation, different bus companies allegedly charged extra from passengers, forcing many to avail motorcycles and trucks.
Some rundown buses were seen leaving Gabtoli with passengers.
At Kalyanpur area Nurunnahar Khatun, mother of two children, said that she was going to her children's grandfather's home at Rangpur to spend the vacation.
Abdul Hannan, another homebound person at Kalyanpur, said that he was feeling stressed here at Mirpur and is now set to spend quality time in an healthy environment at his village in Pabna.
At a particular bus counter Ariful Islam, a resident of Mohammadpur, said that he did not manage to get any ticket to go to Khulna.
The counter manager Faruk Hossain Babu said that all of their tickets were sold out until March 26.
At Gabtoli, Ahsan Ahmed, a private university student, alleged that the bus operators claimed Tk 600 instead of Tk 300 to take him to Pabna.
The education ministry on Tuesday extended the holyday for all educational institutions till April 9.
Clockwise from top left, thousands of people throng Sadarghat Ferry Terminal, police restrict public entrance to the terminal, a policeman uses PA system to request people waiting for ferries to go back after Bangladesh Inland water Transport authority closed transport vessels indefinitely, police charge batons to disperse potential passengers thronging the terminal, people wait in queues to buy train tickets at Kamalapur Railway Station, and passengers crowd around the Saidabad Bus Terminal in Dhaka to leave the city on Tuesday. — New Age photo