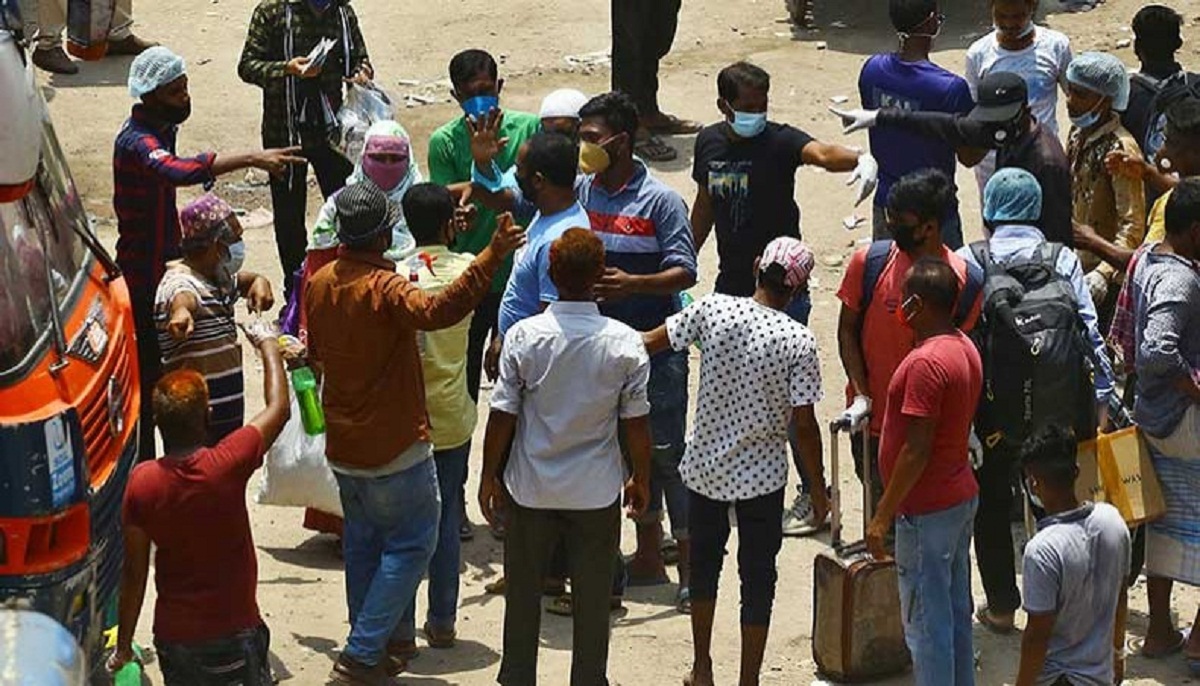 Bus operation resumed on Monday amid allegations of charging more than government-approved 60 per cent hike in fares while maintaining social distancing remained a far cry, especially on local routes in the districts.
Trains and launches plied for the second day after resuming service while more than 50 per cent passengers were accommodated in many launches at major terminals defying government directives.
New Age correspondent in Barishal reported that buses running on long routes tried to abide by the rules of social distancing but buses running on local routes, including in Madaripur and Faridpur, did not follow health regulations as they took more than the government-approved 50 per cent of passengers.
After visiting the Nathullabad and Rupatali central bus stands of Barishal city it was found that most of the passengers expressed their frustrations over the fare hike from 60 to even 100 per cent on different routes.
Abdus Shakur, a passenger at Nathullahbad terminal, said he wanted to go to Savar but the bus fare reached to Tk 1,000 from Tk 500 per head.
Jamshed Ali, Barishal depot manager of Bangladesh Road Transport Corporation, said that the fare of AC buses on Barishal-Mawa route increased to Tk 500 from Tk 300 and fare of non-AC ticket to Tk 300 from Tk 200.
SM Ajiar Rahman, deputy commissioner, Barishal, said we organised a meeting with bus owners association and asked them to maintain social distancing and follow health regulations.
Our correspondent in Sirajganj reported that since morning, long route buses from Sirajganj sadar plied to different destinations and passengers alleged that bus fare for Sirajganj-Dhaka route should have been Tk 400 after the fare hike while the operators charged Tk 450.
Sirajganj district bus owners association joint general secretary Atiqul Islam said that they had already sold tickets at the rate of 80 per cent hike.
In the capital, office-bound passengers in the morning suffered as buses were taking limited number of passengers following the road transport ministry's directives to ensure social distancing.
On Dhaka roads buses of different private companies and that of the BRTC were seen running and they charged updated fares.
Some bus companies, such as Labbaik, were seen to have provided hand sanitiser for passengers.
The bus companies were charging Tk 16 instead of Tk 8 to Gulistan, Tk 40 instead of Tk 25 to Saidabad and airport, and Tk 32 instead of 25 to Mirpur-13 from Farmgate.
As minimum fares, the minibuses were charging Tk 10 instead of Tk 5.
At about 11:30am, some passengers were seen getting on a Bogura-bound bus of Akota Paribahan while the driver's assistant of the bus sprayed sanitisers onto their hands.
Staff of the bus company said that from Monday they started charging Tk 600 instead of Tk 350 for each seat of the non-air-conditioned vehicle of Dhaka-Bogura route while fares for AC buses were yet to be fixed.
They were charging Tk 770, a little over 60 per cent increase on Tk 480 for non-AC ticket and Tk 1,000 instead of Tk 650 for AC ticket on Dhaka-Chattogram route.
For a non-AC ticket on Dhaka-Rajshahi route they were charging Tk 760 instead of Tk 480, they added.
On the day, railway ran seven intercity trains from Dhaka to areas like Chattogram, Rajshahi, Sylhet, Khulna and one on Sylhet-Chattogram route.
With half the passengers, the trains went to destinations without overcrowding the compartments as the trains skipped all other stations on the routes.
At major launch terminals in Chandpur and Barishal passengers were allowed on most of the launches without following social distancing. They sat on decks without keeping distance between them.
News Courtesy: www.newagebd.net