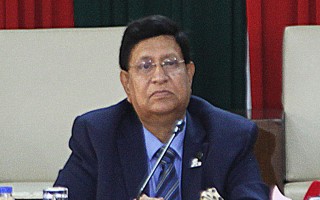 Foreign minister AK Abdul Momen on Sunday described the killing along the border by Indian Border Security Force as 'small incidents' and said that the killing was going on in spite of promises made by the chiefs of the border forces to stop the incidents.
'It is deplorable,' he said, referring to the border killing, after a meeting with the new Indian high commissioner to Bangladesh, Vikram Doraiswami, in Dhaka.
The minister said that he discussed the matters involving border killing with the high commissioner.
In the meeting, Vikram described the killings along the border as 'accidents' and said that these things should not hamper relations between the two countries as talks to stop the incidents are ongoing, Momen said.
'These small incidents occur as they [BSF] promptly open fire while people on this side of the border also 'do excess for extra income,' said the minister.
At least 35 Bangladeshis were killed by BSF in the first eight months of this year, according to Ain o Salish Kendra, an NGO.
At least 1,185 Bangladeshis were killed along the border by BSF between 2000 and 2019, according to the data shared by another NGO, Odhikar.
Momen said that he stressed the need for reopening land and rail routes while the Indian authorities were keen to resume air travel between the two countries at the earliest.
The new high commissioner was keen on smooth completion of projects commissioned under the Indian lines of credits, said the foreign minister, appreciating Vikram as a meritorious person.
Momen said that the government had extended an invitation to Indian prime minister Narendra Modi to visit Bangladesh on March 26 in 2021.
The prime ministers of the two countries are also likely to hold a summit virtually on December 16 or 17, he said, adding that both the summits were to be made final.
On relocating Rohingya people of Myanmar to Bhasan Char Island, Momen said that the government was keen to transfer about one lakh Rohingyas to the island from the camps in Cox's Bazar at the earliest.
He said that he was of the opinion that the Bhasan Char Island should have been turned into a resort for tourists as a section of the international community, including some human rights group, were busy in 'only talking' and presenting demands one after another involving the relocation of the Rohingyas.
News Courtesy:
https://www.newagebd.net/article/119349/border-killing-deplorable-fm