'Nothing's impossible'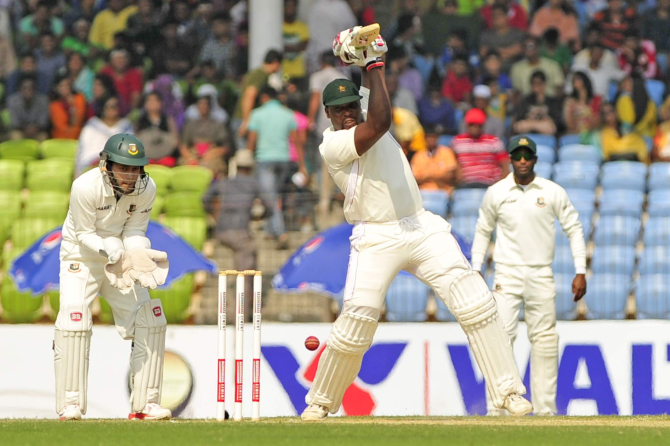 He was scintillating in his batting on Tuesday on way to scoring his third Test hundred, sharp in his bowling to initiate a collapse in Zimbabwe's top order and finally he was bold in his statement at the end of the third day's play of the second Test here yesterday.It was none other than ace all-rounder Shakib Al Hasan who pointed out many reasons -- slow batting on the first day as Tamim Iqbal made the slowest hundred for Bangladesh, missing chances, poor bowling in the last session and, above all, an unfavourable pitch for the Tigers' slow bowlers -- behind losing control of the match.

Reminding a popular saying, the all-rounder sketched a difficult proposition when asked about his team's chances to win this match.
"Anything is possible in cricket, so it is still possible [to win the match]. We should take their remaining five wickets quickly tomorrow morning and if possible within an hour, though it's a little bit tough. We have to bat well in the second innings and ensure that we score fast and then again we must take their ten wickets. All those things are tough but not impossible," said a straightforward Shakib."I don't think they are ahead of us. We won the first Test and this match is now evenly poised. But cricket is a game of uncertainty, where anything can happen in one or two hours. I am hopeful, but right now my observation is that the match is heading towards a draw."Shakib however rued the missed opportunities.
"Fielding is very important in this kind of a match. It is important to take those half-chances to win on this kind of pitch. We couldn't take one or two catches which cost us in the end.," he said.
Shakib, who played a stroke-filled knock in contrast to Tamim's unusually slow batting, was critical of the slow approach on the first day.
"It could have been better had we taken some more runs [on the first day]. If you lose fewer wickets then normally you have to score 250 runs [Bangladesh scored 193 for 3 on the opening day]. The batters said that it was not easy to play shots. On the other hand, Zimbabwe set a defensive field and also bowled in right areas," observed Shakib.

Was it (the slowness) for the pitch or the situation? Shakib's answer was: "It can only be answered by those who were batting then."When asked about whether they were happy with the behaviour of the pitch, Shakib said: "Not fully because we expected more favour for our spinners. It was not even easy to take three wickets in one session and on the other hand we could not bowl well in the last session."Shakib however was happy that he could make a hundred so quickly after returning to Test cricket after an eight-month break."I failed with the bat in the first Test and you know it's not easy to get back your rhythm when you play a Test match after a long break. I didn't expect that I could score big so quickly. I hope things will be better in the coming days," said a confident Shakib.It was however not possible to know Tamim's reaction as he has decided to keep away from facing the media.