A batsman's paradise again?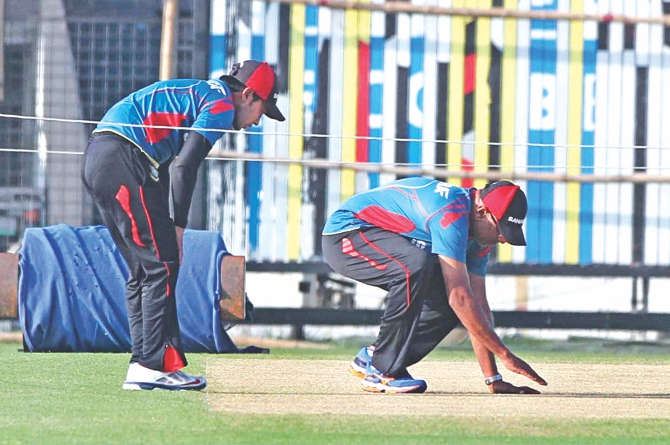 Even while standing at a distance one could easily notice the green top; the wicket number six of the Zahur Ahmed Chowdhury Stadium (ZACS) in Chittagong was filled with grass. But of course none of Bangladesh's coaches or the five players who turned up for optional practice yesterday was interested in that pitch.Heath Streak might have had a glance at it and it might have reminded him of the wickets back home in Zimbabwe, but then that thought quickly evaporated as he returned his attention to Shahadat Hossain grunting his way through the net sessions.

On the contrary, barely a metre away from the green top, captain Mushfiqur Rahim, coach Chandika Hathurusingha and the curator were almost in a huddle discussing the various sections of wicket number three, the one on which the third and final Test against Zimbabwe will begin on Wednesday.As expected it had a completely different feature from its neighbouring wicket, with almost no grass.The wicket in Chittagong is expected to behave similar to Khulna. With no grass, the uneven bounce, which has been a feature in this entire series, is likely to continue. Unlike the first Test in Mirpur, ZACS is expected to favour the batsmen with an ounce of help for the slower bowlers.

Traditionally, ZACS, in Test cricket, has been a batsman's paradise. Of the 12 Tests played here teams have put on 350-plus scores 13 times. The last two Tests played here, against Sri Lanka and New Zealand, saw the batsman pile on the runs and as a result both of them ended in draw. Kumar Sangakkara posted a triple century while Bangladesh scored 501, one of their highest Test totals, here.Sri Lanka skipper Angelo Mathews had criticised the wicket after the last Test. "The wicket was as flat as a road. I actually think we could start another Test on the same wicket," he had said.With the Zimbabwean batting line-up not as strong as that of the Lankans, instructions to the curator for this Test is likely to be different; having said that, the match is likely to go on till the final day.