In Nepal, one daughter's search for her mother.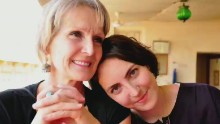 In the stillness of night, Yasmine Habash looks upward at an almost full moon. It shines brighter than any of the bulbs on the hotel grounds.She gazes skyward and hopes her mother, Dawn, can see the same light.Yasmine, 31, arrived in the Nepalese capital nine days after an enormous earthquake rocked this Himalayan nation. From the Turkish Airlines flight from Istanbul, she saw the moon outside. Bright. Beautiful. Just like her mother, she thought.
She peered out the airplane window and whispered: "I'm coming, Mumma. I'm coming."Her mother, Dawn Habash, 57, hasn't been heard from since the quake hit.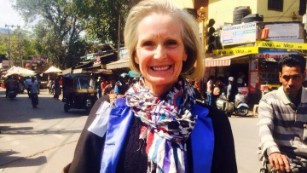 Dawn Habash was on the Tamang Heritage Trek in Nepal at the time of the earthquake.
Yasmine waited several days after the quake to hear from the woman who gave birth to her, the woman she calls her best friend. Then she decided she couldn't just sit on the couch in front of a computer, playing out scenarios in her head.
She had to do everything she could to find her mom -- and that meant coming here.Yasmine arrived in Nepal early Tuesday morning. Though she wanted to hop on a helicopter at noon, she knows she has to go to the quake-devastated region equipped for what might await her.
So she's waiting until early Wednesday morning, Kathmandu time, to head to one of the most picturesque valleys in the Himalayas. At least it was, until the Earth shook and rattled.
Much of Langtang is now shattered, covered in a blanket of muck from a landslide. Up to 600 trekkers and their guides and porters were reported missing there after the magnitude-7.8 earthquake. The bodies of about 100 people have been recovered from the region that lies about 40 miles north of Kathmandu.
An 'unfathomable time'
Yasmine Habash was on a mini-vacation in Idaho, away from her home in Juneau, Alaska, when the world trembled and changed. She received several late-night calls from friends in India but thought nothing of it. Often, her friends forgot the time difference.
The next morning, she had a text from her 33-year-old brother, Khaled: "Call me when you wake up."In the next few hours, she learned about the tragedy unfolding in Nepal, a country she knew well from her travels with her mother.
Many years ago, Dawn Habash embarked on a journey of self-discovery. Her spirituality led her to India and Nepal, and her daughter grew up influenced by her mother's way of life.
They were mother and daughter but also the best of friends, two women who traveled every year to the subcontinent in search of harmony and tranquility. They both loved being in this part of the world. Their last trip took them to the western Indian state of Rajasthan, up to Dharamsala, the capital of the Tibetan government in exile, and to the Hindu holy cities of Haridwar and Rishikesh.
Yasmine drifted on a canoe in the water in Idaho and looked upward to the sky. "I know you are OK," she whispered to her mother.
But in the hours and days that followed, Yasmine and Khaled watched the news as the death toll rose steadily. She saw the maps that outlined the worst-affected parts of Nepal. Langtang was so close to the epicenter.
"That's when it hit me," Yasmine says.She and Khaled had both traveled to this region. They knew there were areas in the mountains that were hard to access, places so remote it took four days to walk to a phone or Internet connection. They kept thinking: "She's strong. She will survive."
Dawn's independence, strength and kindness has always inspired her children. So has her curiosity about the world. She began traveling solo at age 19, says Khaled. Because of her, he says, he's visited more than 50 countries himself.
Khaled, who lives in Portland, Maine, is trying to get his head and heart around this "u
he prepares for the birth of his second child, a daughter, who is due any day now.
Fighting tears to Kathmandu
Dawn Habash met her husband at an English college. She saw herself as the country bumpkin from Maine. He was the dashing, suave Damascus-born gentleman who'd settled in Saudi Arabia. She fell madly in love and moved there to be his wife.
"He swept her off her feet," says Yasmine.Dawn lived in Saudi Arabia for 12 years, "not an easy place to live as a Western woman," Khaled says. Another testament to her strength.
In the years since their parents split up, Dawn transformed herself as a yoga and Pilates instructor. Though she kept traveling, she built her new life in Augusta, Maine.
Recent budget cuts meant a lost job at a wellness center, though, and Dawn seized the opportunity to take a long sojourn in India. By March, summer was descending fast, and she decided to return to Nepal for her fourth visit.
Yasmine last spoke with her mother on April 17. She wishes now the conversation had been less mundane. They talked about Dawn's house and unpaid bills she needed to address.
News Courtesy: www.cnn.com