Kansas college student killed in mosque attack called a 'hero'

He was a Kansas college student who had returned home in order to get married.And then after that, Abduljaleel Alarbash planned to leave Saudi Arabia and head back to Wichita State University, where the electrical engineering major was an honor roll student.
It appeared like it was nothing but good times ahead for "Jalil," as his college buddies called him.Until Friday, when the 22-year-old's life was cut short by a suicide bomber outside of a mosque in Dammam in eastern Saudi Arabia.
ISIS claimed responsibility for the attack, its second on a Shiite mosque in as many weeks.The blast also killed Jalil's brother, Mohammed, and their cousin, Alarbash's father, speaking in Arabic, said in a video posted Saturday.The elder Alabash said the trio volunteered as security guards at the Al-Anoud Mosque, located in a predominantly Shiite neighborhood, and that they died "heroes" because they prevented the suicide bomber from getting inside, where scores of Shiite Muslims were worshiping at the time.
"The suicide bomber approached the mosque wearing (a traditional robe worn by women)," he said. "They suspected him so they stopped him and uncovered his face."The official Saudi account of the attack, however, is less clear than the one told by the grieving father.
A Ministry of Interior spokesman initially said it was "security authorities" who intercepted the terrorist, and later issued a statement in which they were merely referred to them as "security men. "A Saudi source with detailed knowledge of the investigation, however, told CNN that the terrorist was indeed challenged by Shiites who had volunteered to search people trying to enter the mosque for Friday prayers.
For some in the Wichita State community who knew him, there is no doubt that Alarbash was the hero that day."Abduljalil saved hundreds of lives ... including my father and some of my friends," said Mohammad Aljady, a fellow Wichita State student. "We believe what he did made him a hero and the world will never forget heroes."
"(Abduljalil) and his brother were heroes," said Mohammed Alsaeed, another student. "From the bottom of my heart I thank them for saving my family and others' lives."People who knew him on campus described Alarbash as a popular person who went out of his way to help others.
"What an amazing guy he was!" said Saeed Qaed AlGhamdi, the president of Wichita State University's Saudi Student Association. "He was funny, a good guy and we are sorry (about) what happened to him."
"He was such an amazing man and will never be forgotten," added Mohammed Alradhi."I think the way in which he passed away shows a lot about the person," said Alicia Newell, director of the university's engineering career center. "He was definitely a pleasure to work with."
ISIS targets Shiite community
The attack at the mosque in Dammam -- a coastal city about 70 kilometers (45 miles) from the Persian Gulf island nation of Bahrain -- comes on the heels of a May 22 attack on another Shiite mosque in the village of Qudayh, a Shiite neighborhood about 20 miles to the north.
That attack left 21 dead and wounded more than 81, the state-run Saudi Press Agency.The area is one of the few Shiite population centers in a country in which 85% to 90% of citizens are Sunni, the other major Islamic sect.
ISIS' claims of responsibility for both attacks shows the terrorist group's efforts to bring violence and chaos to another Middle East country after its successes in Syria, Iraq and Libya.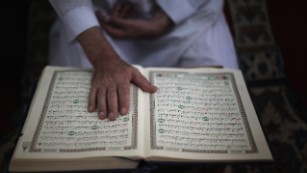 "In a blessed martyrdom operation, a Polytheistic monument was targeted, that (the Shiite community) established in Sunni areas to spread out their polytheism," ISIS reportedly said, identifying the suicide bomber as Abu Jned al Zazrawi.
News Courtesy: www.cnn.com