Island building in South China Sea 'justified,' says Chinese admiral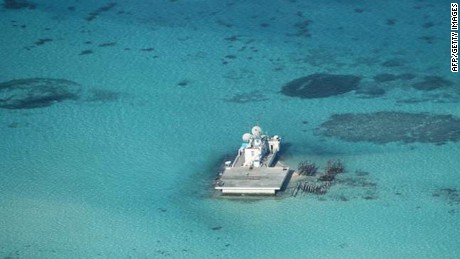 China has defended building artificial islands in contested waters in the South China Sea, saying the land reclamation is "justified, legitimate and reasonable."Admiral Sun Jianguo told a regional defense forum in Singapore Sunday that the construction did not target any other countries or affect the freedom of navigation, according to comments carried by state broadcaster CCTV.
"I want to reaffirm that this construction is well within the scope of China's sovereignty and it is justified, legitimate and reasonable," said Sun, the deputy chief of General Staff Department of the People's Liberation Army.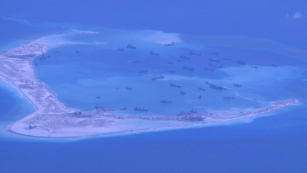 "In spite of the sufficient historical and legal evidence and its indisputable claims of rights and interests, China has exercised enormous restraint, making positive contributions to peace and stability of the region and the world at large," he added.
Sun's comments came a day after U.S. Defense Secretary Ash Carter singled out China as a source of instability in the region and called for "an immediate and lasting halt" to island building.
"The United States is deeply concerned about the pace and scope of land reclamation in the South China Sea, the prospect of further militarization as well as the potential for these activities to increase the risk of miscalculation or conflict among claimant states," Carter said at the annual meeting, which is known as the Shangri-La Dialogue.
Simmering anger
Anger has simmered over the South China Sea among China and neighboring countries, such as Vietnam and the Philippines, which have argued about existing territorial claims and the natural resources that lie beneath them.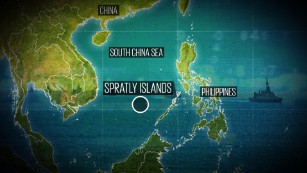 A depiction of where exactly China is building islands out of nothing, 600 miles off the coast of its mainland.
Last month, a U.S. surveillance plane carrying a CNN crew flew over such artificial islands, triggered eight warnings from the Chinese navy to back off. U.S. officials are concerned about China's militarization of some of the islands and is trying to create public awareness of it, but Chinese media slammed the issue as being manufactured and "sensationalized on purpose" by the West.
While other countries have also reclaimed land in the disputed waters, Carter said that China had "gone much further and faster" -- reclaiming more than 2,000 acres in the past 18 months.
And China has placed artillery pieces on one of its manufactured islands, a U.S. official said Friday.Responding to audience questions at the forum, Sun said that no decision had been reached on whether China would set up an Air Defense Identification Zone in the South China Sea, and such a move would depend on whether "China's air and maritime security" is threatened.
In 2013, China declared an air defense zone in the East China Sea that covered islands disputed by China and Japan, eliciting strong criticisms from Japan and its close ally the U.S.
However, Sun also sought to play down the tensions, stressing that China was committed to resolving the South China Sea dispute peacefully.
News Courtesy: www.cnn.com