Air Force may send F-22s to Europe over Russia 'threat'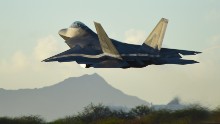 The U.S. Air Force could be sending some of its most advanced warplanes to Europe in a show of force against Russian actions in Ukraine and elsewhere around the continent, the service's top civilian said Monday.
"The biggest threat on my mind is what's happening with Russia and the activities of Russia," Secretary of the Air Force Deborah James said during a visit to the Paris Air Show. "It's extremely worrisome on what's going on in the Ukraine."
James' remarks were reported by Military.com, Breaking Defense and other websites.
For months, the Pentagon has been rotating aircraft through Europe for exercises with allies under Operation Atlantic Resolve, which it calls "America's commitment to European security."
Participating in those exercises and rotations have been B-2 and B-52 bombers, F-15Cs and A-10 attack planes as well as Army and Navy assets.
News Courtesy: www.cnn.com