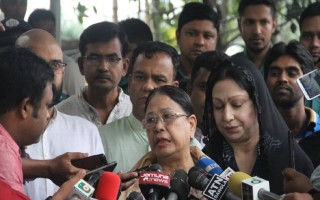 The family members, who met jailed Bangladesh Nationalist Party chairperson Khaleda Zia at the Bangabandhu Sheikh Mujib Medical University hospital in the capital on Friday afternoon, said that her health was worsening day by day.
They wanted to get her released on bail for better treatment abroad.
Six relatives, including Khaleda's sister Selima Islam, daughter-in-law's elder sister Shamim Ara Bindu, younger brother Shamim Iskander's wife Kaniz Fatima and nephew Avik Iskander, visited Khaleda under treatment at the hospital's cabin block since April 1, BNP chairperson's press wing member Shamsuddin Dider said.
He said that the family members met Khaleda for about an hour since 3:00pm.
After the visit, Selima told reporters that her sister was seriously ill and doctors had not been seeing her for two weeks.
'She has not been provided with treatment. So why are they keeping her here? Her health condition is deteriorating day by day,' Selima said.
'We want to send her abroad as her condition is getting worse. She can go abroad if given bail,' she said.
Earlier on October 11, six family members met Khaleda at the facility.
In the morning on the day, BNP senior joint secretary-general Ruhul Kabir Rizvi alleged that the government was showing inhuman behaviour over the former prime minister's illness.
'The government's inhuman and cruel behaviour proves that it has been implementing a master plan secretly to kill the Deshnetri (Khaleda),' he alleged.
He also alleged that Khaleda was not allowed bail as the prime minister Sheikh Hsaina was controlling the courts.
Khaleda has been in jail since February 8, 2018 when she was convicted by a Dhaka special court in a graft case that BNP terms false and fabricated.
She was admitted to the BSMMU hospital on April 1 and had been under treatment there since then.
News Courtesy: www.newagebd.net