Bangladesh National Party's march from Shahjadpur to Malibagh begins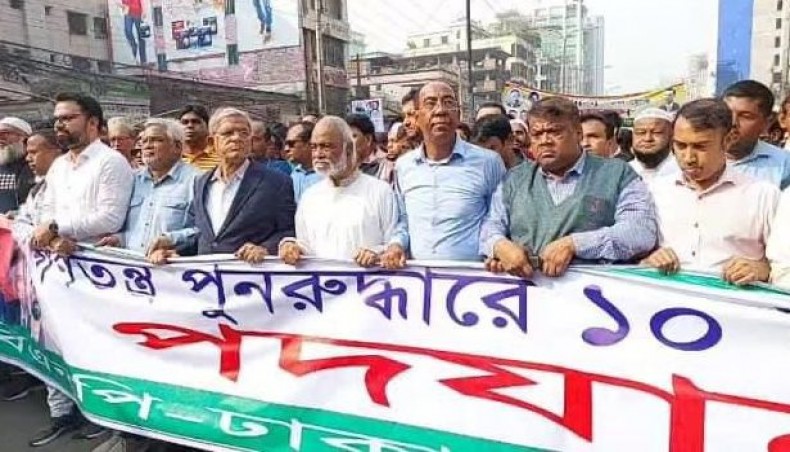 As part of Bangladesh Nationalist Party's four-day programme, its Dhaka North City unit started a march from Shahjadpur to Malibagh in the capital on Saturday afternoon to press home their 10-point demand, including holding the next general election under a non-party caretaker government.
BNP secretary general Mirza Fakhrul Islam Alamgir formally inaugurated the programme in front of Shahjadpur's Hossain Market at about 2:30 pm.
In a brief address prior to launching the programme, Fakhrul asked the party leaders and activists to hold the programme peacefully without responding to any provocation.
'We've so far held our all programmes peacefully and we'll ensure the government's fall through the peaceful agitations.'
Stating their march programme as a silent protest against the government, he said they would force the government to quit together with the people.
Accusing the government of snatching people's voting rights, the BNP leader said that they would restore the voting rights of people by ousting the Awami League government.
'No fair election will be held as long as Awami League is in power. So, the Awami League government must hand over power to a caretaker government by quitting power and dissolving parliament so that people can cast their votes under a new election commission,' Fakhrul said.
Thousands of leaders and activists of BNP and its associate bodies joined the programme, carrying banners, festoons and portraits of the party's top leaders.
They are also chanting various slogans demanding the resignation of the government and the release of the party leaders and activists.
A huge number of law enforcers have been deployed to maintain law and order and fend off any untoward incidents.
The BNP leaders and workers were seen thronging in and around the Hossain Market area since 1:00pm while the senior party leaders were repeatedly asking them to keep the traffic normal.
Earlier on Thursday, BNP announced the four-day march programme in Dhaka for January 28, 30, 31 and February 1.
Dhaka North City unit BNP will also march from Gabtoli to Mirpur-10 intersection on January 31.
Besides, Dhaka South City unit BNP will march from Jatrabari to Shyampur on January 30 and from Mugda to Malibagh on February 1.
News Courtesy:
https://www.newagebd.net/article/192921/bangladesh-national-partys-march-from-shahjadpur-to-malibagh-begins