Tamim cries wolf again!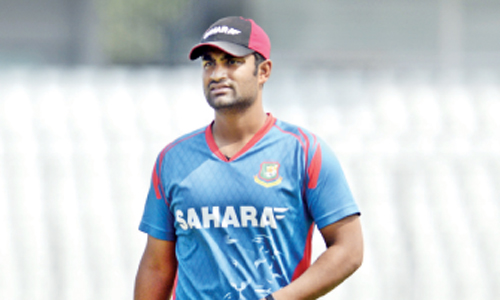 The drama over the injury of opener Tamim Iqbal is dominating the headlines once again as Bangladesh prepare for the crucial second Test against Zimbabwe, beginning at Khulna on Monday.Selectors were in two minds over picking a replacement for Tamim, who hurt his right thumb during a training session Wednesday and became uncertain for the Test.He was initially kept on 48 hours observation but the team management repeatedly said Tamim should be okay for the game as the X-ray revealed no fracture.

Team physiotherapist Bayezid said he is recovering at a good pace and should be available for training today.'We did not want him to start his net session right away as we wanted to give him some time,' Bayezid told New Age over phone from Khulna.'We are optimistic that he will be available for selection before the second Test match.'Tigers' Sri Lankan trainer Mario Villarayon also made the same observations.'It is nothing serious and looked quite fine. I think it is just something with his ligament,' he said.Despite all the positive words from Tigers' camp, it was reported that the selectors are considering opener Imrul Kayes as backup for Tamim as they do not want to take any risk.

The chief selector, however, said no final decision has been made about the replacement, as they still want to give Tamim some time to recover.'We are still not considering anyone as we want to have a look at him before taking a decision,' chief selector Faruk Ahmed told New Age.'There are still a few days left before the second Test match, so it is too early to comment at this stage,' he added.Such drama over Tamim's injury is nothing new, as in the past, he has often complained of similar 'injuries' which turned out to no serious injury at all.Ironically, the last time Bangladesh played a Test in Khulna was against the West Indies in 2012 where there was a similar drama which dominated the buildup. The only difference was Tamim had complained of an elbow injury at that time.The left hander felt uncomfortable during the nets session before the Test prompting the management to call up the then uncapped Anamul Haque for a Test debut.Anamul only came to know that he will not be required when Tamim managed to pass the fitness test to get into the playing XI.

In the pre-Test press conference, skipper Mushfiqur Rahim had to face a volley of questions on whether Tamim's whining after a routine bruise was a distraction for the team.Mushfiq tactfully avoided the question but it did not stop people from speculating, as many doubt the gravity of an injury every time Tamim complains.
During informal discussions, many former cricketers said Tamim's repeated complaint may have some relation with his tendency to avoid the rigour of training sessions.Some hoped Tamim would stop making excuses on routine bruises, once Chandika Hathurusinghe, known as a hard taskmaster, was appointed as the Bangladesh coach.

However, Tamim proved them wrong as he complained of an injury before Hathurusinghe's first formal assignment in West Indies, saying he was hurt by a yorker from Taskin Ahmed in a net session.However, Tamim returned to training the next day, once it was revealed that the team would be announced by the next day.
The cricket fraternity had hoped things were finally beginning to change until Wednesday, when Tamim decided to unsettle Bangladesh's preparation again.