Pakistan v Australia, 2nd Test, Abu Dhabi, 4th day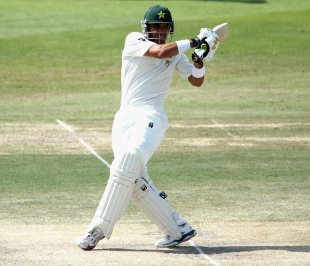 Ever heard the one about when Misbah-ul-Haq thrashed Australia for the equal fastest Test hundred of all time? What about the one where the Pakistan cricket team, at their home in exile, battered powerful Australia by margins unmatched in Test history? Didn't think so.Pakistan's UAE flattening of Australia entered totally unprecedented dimensions on day four in Abu Dhabi, as Misbah's second century of the match occupied just 56 balls - the same tally required by Viv Richards against England in Antigua 28 years ago.
Michael Clarke's team were left speechless by the hail of runs, and slipped meekly to 143 for 4 by the close in a nominal pursuit of 603 to win. Chris Rogers, Glenn Maxwell and Clarke all fell cheaply, while David Warner squandered a sound start with a miscued slog. Steven Smith and Mitchell Marsh fought gamely through the final hour, momentarily halting the procession.The symbolism of Misbah's innings was immense, utterly humbling Australia in a series where they have conceded all manner of records for differentials between two teams. Foregoing his usually obstinate tendencies, Misbah took 22 runs from one Steve Smith over and needed just 21 balls to reach 50, bettering the record 24 deliveries taken by Jacques Kallis to set the previous record, before going on to match Richards. He had been dropped second ball by Peter Siddle off Smith's bowling.
Amid records for Misbah, Azhar Ali's second hundred of the match went by almost unnoticed, but his achievement of three figures moved Misbah to declare. Their dual hundreds were the first time two batsmen had scored Test centuries in each innings for the same team since Greg and Ian Chappell against New Zealand in 1974.Younis Khan was the only wicket of the day for Pakistan, his lbw the signal for a somewhat overdone reaction by Warner, who clapped mockingly in the face of the series' highest run-scorer. Azhar Ali was also dropped by the substitute Phillip Hughes in the gully as part of a bedraggled Australian performance in the field that did not bode well for their time with the bat.
Rogers duly perished when he nibbled Zulfiqar Babar to leg slip, before Maxwell completed what could be the only match he may ever play as Australia's No. 3 batsman by missing another straight delivery from Babar to fall lbw on review. In a 12-ball stay, he had also nearly been bowled after missing a highly ambitious attempt to reverse sweep Mohammad Hafeez.Clarke's poor series has been another major factor in the gulf between the teams, and here he was turned inside out on the crease by Babar. It was a decent ball, but Clarke's leaden feet contrasted sharply with those of his not-so-much younger self, which would likely have danced their way out of trouble. The difference with his opposite number Misbah was equally stark - it is the Pakistan captain who has looked and acted as though the younger man, despite his 40 years.
Misbah's innings had begun with a generous Smith full toss that was slapped down the ground, but next ball a miscued attempt to swing the legspinner over the fence resulted in an edge that floated towards Siddle, who grassed the chance.From there, Misbah took fearsome revenge on Smith for dismissing him twice in the series, collaring decently pitched balls with near impunity, seemingly oblivious to where Clarke posted fielders. His half-century arrived from the final ball of the morning, and he and Azhar left their gloves and bats by the boundary's edge.
After lunch, Misbah's pace slackened only mildly, and it took a fine over of full-pitched reverse swing by Siddle to ensure he did not beat Richards. As it was, a slog to midwicket then a fortuitous edge to third man took Misbah level with the Master Blaster, a proud moment for Pakistan's captain and the latest indignity inflicted upon Australia in this lopsided series.Mitchell Johnson ended Pakistan's innings out of the bowling attack and off the field nursing a sore hip, while Brad Haddin did not keep wicket at all due to what has been revealed to be a hideously bruised shoulder. That being said, it looked better than the scoreboard.