On the right path or not right there?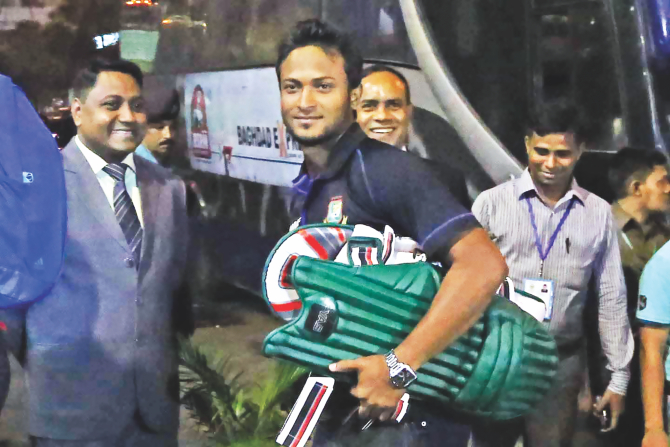 Bangladesh's first Test series win since 2009 brought along with it a number of individual records for the Tigers members. Shakib Al Hasan etched his name alongside Ian Botham and Imran Khan, Tamim Iqbal's century ended a four-year drought and Taijul Islam's eight-wicket haul broke Bangladesh's best bowling record.
The question however remains whether all these positives point towards an overall improvement for the Tigers in the Test scenario. A number of former national cricketers shared their views with The Daily Star regarding the issue.

With spin dominating the series, former national spinners Enamul Haque and Wahidul Gani said that they were pleased with the way the home-side's three-man spin attack performed. However they pointed to a number of areas that still needed plenty of attention."So far I have honestly not seen anything extraordinary in Taijul's bowling. I have seen the likes of Enamul Junior, Elias Sunny and many others in the domestic circuit and they are equally good. But what's special about him is his mentality. He knows that he needs to work hard to stay in this team and I have a feeling that he is hungry for success," said Enamul, who once led Bangladesh's bowling attack with his left-arm spin.

"New players have come for a number of times for Bangladesh and performed. So Taijul is not new. What he needs to know is that the sun has not risen for him yet. Many players have come and gone. He needs to continue to learn from Shakib and Raj [Abdur Razzak] and develop himself," he added.Apart from the slow left-armers, Jubair Hossain also seemed to cause trouble for the visitors with his legbreaks. Former leg-spinner Gani, who now works with an age-level spin unit of the BCB, thinks that Jubair can only be judged once he performs against 'top-teams'."He bowled okay. He flighted the deliveries and looked good. But the fact remains that Zimbabwe is a weak team against spin. For now he can work on supporting Shakib and Taijul, but in order to be able to do something alone, he still needs time," said Gani.

The 58-year-old had a similar notion on Bangladesh's overall performance. "Yes we have won this series. But we can't really say if we have improved in Test cricket. We will be able to judge that only after we play another series, perhaps against Pakistan."On the other hand, our batsmen have continued to struggle against Zimbabwe's pacers and our fielding has been poor, so there are a number of areas that we still need to improve a lot on. But since we needed to win something this year, we did well to achieve that," explained Gani.Shakib's performance was vital to Bangladesh's comeback from despair. It's something, according to Enamul, that should encourage the other players."It's not a big deal for him [Shakib] to take a five-for in Mirpur, but to achieve the rare feat of scoring a century and taking ten wickets, that just shows us once again the calibre and hunger for success that he has. It shows that with hard work one can break new grounds," said Enamul.