Bangladesh vs Zimbabwe Test & ODI Series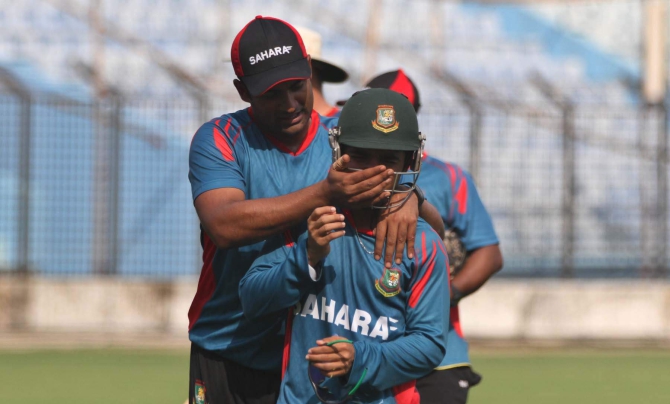 Amidst the hue and cry of Shakib Al Hasan's emphatic performance and Bangladesh's rare series win, the Tigers silently completed 14 years of Test cricket yesterday. With six wins and 11 draws in 87 matches, there is not much to show for, but, Bangladesh captain Mushfiqur Rahim expects greater times are ahead.The captain, who believes that Bangladesh could have been in a much better position today, has emphasised the need for improving the country's first-class structure for a better future."The point is that Test cricket is the game that gives you the ultimate respect and those involved in it; the board members, players and everyone. I know they all are working hard, but more commitment is required."It's not just about the infrastructure but our players need to get motivated as well. Our first-class structure is not as strong as others. When our first-class competitions begin, the national players are not always engaged. So there is not much competition and hence not much pressure," reckoned Mushfiqur.
"But if you look at other countries, sometimes their first-class teams beat national teams. So, if our first-class wickets are a bit pace-bowling friendly then at least we won't have to struggle outside," he added.Half of Bangladesh's squad for the Zimbabwe series have just recently begun playing Test cricket. Mushfiqur believes that it's necessary for a number of these players to stick it out for the next five to six years for the overall development of the team."Test experience is a big deal so these players need to perform, maintain their position and gain that experience. There are a number of players who are not there in the setup today but could have done well. On the contrary, if you get performers like Mominul [Haque] then that puts pressure on the seniors, which is good."Players don't get a chance to play too long in our first-class format so it takes time for them to settle in international level. If these young players can play consistently for four-five years our results will be better in the future," hoped Mushfiqur.Another issue that Mushfiqur addressed was the lack of Test opportunities for the Tigers. Since 2013, Bangladesh have played just 12 Tests. The Future Tours Programme for the Tigers does not look too bright either.
"Even when Sachin [Tendulkar] had come, he too said Bangladesh would only improve if they play more Tests. Whether you do good or bad, at least you get the opportunity to learn," said Mushfiqur."So here we have a responsibility as well. The more consistent we play the more the other teams will want to play us. Hopefully we can win this series 3-0, seal our dominance and bring more matches in the future," he added.At the end of it all, the captain hoped that his calls did not fall on deaf ears."Anniversaries will come and will go. I might be asked these same questions even next year. But the point is that we should not think about these issues just for a day, but remind ourselves about them every day."