Australia batsman Hughes passes away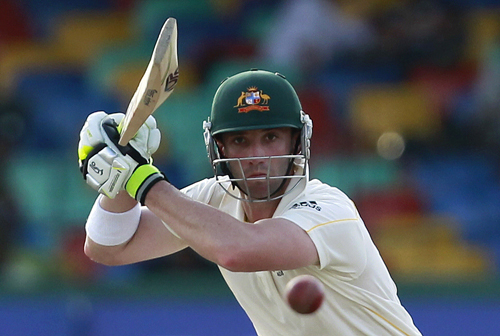 Australian cricketer Phillip Hughes died in hospital on Thursday, two days after the batsman was struck on the head by a bouncer during a domestic match.
Governing body Cricket Australia confirmed the 25-year-old had lost his fight for life.'We are extremely sad to announce that Phillip Hughes has passed away at the age of 25,' CA said on its Twitter feed.'Our thoughts go out to Phillip's family, friends, and the entire cricket community on this incredibly sad day.'There were no further details.Hughes had spent a second night in a Sydney hospital in an induced coma after having emergency surgery to relieve pressure on his brain.The batsman was struck on the head by a ball at the Sydney Cricket Ground, a devastating blow experts compared to the trauma suffered by victims of a car crash.News of Hughes death followed calls by former players for the Australian team to abandon the first test match against India next week.Questions about the response time of ambulances dispatched to the stadium were also raised.

The head of New South Wales Ambulance was to be hauled before the state health minister Jillian Skinner on Thursday after the ambulance authority issued conflicting statements about their response times.The arrival of the first ambulance took 15 minutes, NSW Ambulance clarified in a statement on Wednesday.The state's median response time for the highest priority 'life-threatening cases' was just under eight minutes in 2013-14, according the authority's statistics.'Due to the conflicting information distributed today by NSW Ambulance regarding (Tuesday's) response to the Sydney Cricket Ground, I will be meeting with NSW Ambulance Commissioner Ray Creen tomorrow to discuss the circumstances surrounding the incident,' Skinner said.Dr Peter Larkins, a leading sports physician, told Reuters: 'Time is of the essence when your brain has suffered trauma.'Family and players had maintained their vigil at Hughes' bedside.
- See more at: http://newagebd.net/70971/australian-cricketer-phillip-hughes-has-died-after-being-struck-by-ball/#sthash.AuVkXpwK.dpuf